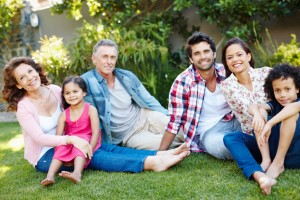 You want the very best for your family: the best schools, parks, and of course top medical care. Have you chosen a family dentist in Feeding Hills? Maybe you're new in town or just haven't gotten around to making a commitment yet, but we suggest doing so soon. Family dentists like Dr. Frank A. Michitti offer the comprehensive services you and your loved ones need to enjoy a lifetime of healthy smiles. Lifetime Dental has been helping our community smile since 2013. Find out why families trust us today!
Comparing Family Dentists vs. General Dentists
Is a general dentist the same as a family dentist? Maybe — many general dentists are also family dentists. Look for a dental office that offers comprehensive care for patients of all ages to know whether or not they're a true family dentist. At Lifetime Dental, Dr. Michitti and our team welcome patients as young as one year old into our practice. We're just as comfortable providing care for children as we are handling your own advanced restorative needs.
A family dentist provides the following services:
First checkups and cleanings beginning at age 1

Preventive services like dental sealants and fluoride treatments

Therapy for a clicking, popping jaw (

TMJ/TMD

)

Periodontal therapy

for gum disease

Tooth replacement: dental implants, dentures, crown and bridge

And many others!
From preventive and general dentistry to restorative, cosmetic, and emergency dental care — whatever you and your family need to thrive, you'll find it at Lifetime Dental.
Multiple Benefits of Family Dentistry
Visiting a family dentist comes with a host of advantages for you and your loved ones. Some of the most notable benefits of family dentistry include…
More convenient.

No need to run all over town to a number of different dental offices to have your family's varied smile needs met. Centralize your dental care into one friendly, convenient location!

Less scary for children.

Young children may be a bit timid during their first visits to the dentist, but they're less likely to fear a dental team they know you trust, too. Family dentists are also known for taking a calm, friendly approach with little patients.

A focus on patient education.

Because family dentists are highly trained in providing dental care for all ages, they can be better-equipped to provide important patient education for the whole family. At Lifetime Dental, we can discuss with your toddler the importance of brushing and flossing (and proper techniques) just as well as we can talk you through your own tooth replacement.

Comprehensive services.

A family dentist like Dr. Michitti is equipped to offer all the services you need in one location, including the placement of

dental implants

.
Find Out Why Families Love Lifetime Dental!
It's time for you to choose a dentist the whole family will look forward to visiting. Our community loves Lifetime Dental — we invite you to request an appointment with the dentist in Feeding Hills today!