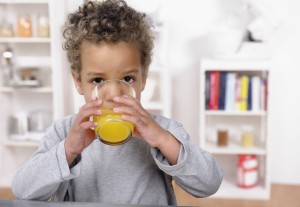 Like most parents, you want to give your son and daughter the best lives possible – you encourage them to play and exercise, you always make sure they wear their seatbelts, and you give them healthy snacks and well-balanced meals. From carrot sticks to juice boxes, nutrition is a key part of helping them grow up strong. But did you know that their penchant for sweet beverages – especially juice – can be damaging to their smiles? Although you might think that these are a great choice since they're full of fruit, juices can actually be just as bad as soda. Find out why from your trusted dentist in Feeding Hills, Dr. Frank Michitti at Lifetime Dental.
Why Is Fruit Juice Unhealthy For Kids?
As your children's dentist in Feeding Hills, Dr. Michitti likes to educate parents on the real facts behind the unhealthy nature of fruit juices. These sweetened beverages are detrimental to your child's smile – and their overall health – for the following reasons:
Tooth Decay – Sweet beverages like fruit juices essentially bathe your child's teeth in sugar with every sip. This is especially problematic since youngsters are developing their hand-eye coordination and brushing and flossing properly are difficult when they are little. And, if you give your child a bottle or sippy cup filled with anything other than water to fall asleep with, this can compound the issues of cavities and enamel problems.
Diabetes – Since fruit juices take out the healthy fiber that slows down the impact to blood sugar that your child would get from eating raw fruits, they basically send a jolt of sugar right to their system. Because fruit juice has such a high glycemic impact, it can negatively affect their ability to regulate their blood sugar, and can contribute to weight gain and Type II diabetes.
Diarrhea – Excessive amounts of fruit juice can lead to diarrhea, and resulting dehydration. Your children can experience hyponatremia, a dangerous imbalance of electrolytes where sodium in the blood becomes too low and this can cause major health problems.
Lack Of Fiber – Like we mentioned earlier, fruit juices remove the healthy fiber that kids need during the processing of the beverage. Fiber is essential to make sure your child grows and develops properly, so it's a much better choice for kids to eat whole fruits rather than to drink juices. Because of the processed nature, all of the nutritional value is removed – making juice just as bad as soda for your kids.
Is Any Amount Of Juice Safe For My Child?
The American Academy of Pediatrics (AAP) agrees with Dr. Michitti – their recommendation is that kids less than 1 year old should avoid fruit juice completely. After that, your son or daughter should have a limited amount of 100% juices – read labels carefully to ensure whole, pure products that are pasteurized. Follow these guidelines – and stick to water, milk, or formula, since these should be your kids' drink of choice:
For Toddlers Ages 1-3 – a maximum of 4 ounces daily
For Children Ages 4-6 – a maximum of 4-6 ounces daily
For Kids Ages 7-18 – a maximum of 8 ounces daily
So, to set your child up for a lifetime of dental success, nix the juice and schedule an appointment for your son or daughter with Lifetime Dental today!