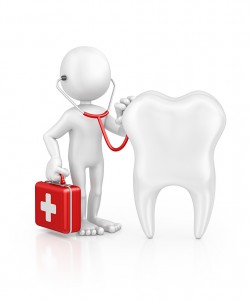 You were enjoying a relaxing afternoon at Robinson State Park – you took a much deserved day off and finally got up the courage to try kayaking. Everything was going great until a rogue paddle from someone nearby landed right against your smile, knocking out one of your teeth. You were shocked, but you managed to stay calm and contact your trusted emergency dentist in Feeding Hills, Dr. Frank Michitti at Lifetime Dental. He walked you through the first aid steps you needed and was able to see you right away to save your smile. In this post, he shares tips on what to do when a dental emergency happens.
What Should I Do In A Dental Emergency?
If an accident or other dental emergency happens, the most important thing to do is remain calm and call our office ASAP at (413) 831-5531. Review the list below for tips on what to do for your specific urgent circumstances:
Knocked-Out Tooth – Pick the tooth up by the crown (the part you chew with) and rinse it off with water, being careful not to disturb any attached roots or tissue. Then, place the tooth back in the socket. If you're not able to do this, put the tooth in a glass of milk. Regardless, call us immediately.
Toothache – Although toothaches can seem like they're not that serious, they can lead to major health issues. If you have tooth discomfort, make sure nothing is lodged between your teeth and floss gently, but thoroughly to remove any debris or food that might be lodged. Then, rinse with warm salt water. Don't delay treatment because oral infections can spread and become dangerous quickly.
Cracks/Breaks/Chips – If you crack, break, or chip a tooth, stay calm. Collect any broken pieces and store them in a glass of milk. Then, contact our office immediately. Even if your tooth doesn't come out of your mouth, you should still seek treatment right away to prevent an oral infection from developing.
When Should I Go To The Emergency Room?
Since most hospitals don't have a dentist on-call (or even on staff with them), your first instinct should be to call Dr. Michitti. However, there are a couple situations you could encounter that you should head directly to the nearest ER for:
Excessive Bleeding – If you cut or tear your lips, cheeks, or tongue, you might be surprised by the amount of blood involved. First, rinse with warm salt water. Then, apply a piece of sterile gauze that's been moistened (in the salt water) to the area, or use a wet tea bag instead. If the bleeding does not stop in 15-20 minutes, go immediately to the hospital.
Jaw Injury – If you have a fall, are in an accident, or even an altercation, and experiencing jaw pain, go to the ER right away. But, since the emergency room doctors can often overlook a broken jaw, reach out to us for a follow-up visit if you continue having pain and swelling after you've been treated at the hospital.
If you follow these tips above and work with Lifetime Dental, you'll have a good chance of saving your winning smile. And remember, the best way to address a dental emergency is with preventive care like mouthguards, so schedule your appointment with us and get to know your emergency dentist in Feeding Hills before an accident happens!