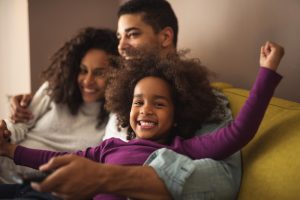 You work hard to keep your family healthy — helping everybody eat as well as possible and making sure you all get a flu shot this time of year. When it comes to your loved ones' smile health, visiting a family dentist in Agawam is a great way to make sure everyone receives the attention that builds healthy teeth and gums to last a lifetime.
Benefits of Family Dentistry
Smiles have different needs throughout a lifetime — your child probably needs more help preventing cavities than you do, for example. From age 3 to 103, family dentists are equipped with the tools and knowledge to care for smiles throughout all stages of life.
A family dentist also works to cultivate a warm, friendly environment that everyone will feel at home in. Children may feel a little nervous visiting the dentist's office, so this extra attention is especially valuable for young ones.
You'll also find all the latest technology in an excellent family dentist's office. Digital x-rays are more efficient and expose you and your loved ones to less radiation than conventional radiography. Air abrasion can blast away cavities, stains, and debris — often painlessly, without the need for local anesthesia. Laser dentistry allows your dentist to perform soft tissue procedures safely and more efficiently.
Comprehensive Services Under One Roof
A family dentist provides a full list of services in general, restorative, and even cosmetic dentistry, all from the comfort of one convenient location.
Some of the treatments you may find at your family dentist's office include:
Preventive dentistry

: Checkups and cleanings, dental sealants, fluoride treatment, night guards, children's dentistry, athletic sports guards, digital x-rays, intraoral cameras, periodontal therapy

Restorative dentistry

: Crowns and bridges, dentures, root canal therapy, extractions, tooth-colored fillings

Cosmetic dentistry

: Metal-free restorations, porcelain veneers, professional teeth whitening, gum recontouring, direct bonding

Dental implants for tooth replacement

TMJ therapy for a clicking, popping, aching jaw

Emergency dentistry

for knocked out teeth, toothaches, and injuries
Prevention Is Key
Your family dentist knows that the foundation of a healthy smile is prevention. All treatment plans begin with a thorough checkup and cleaning. The team will take x-rays, scrub away plaque and tartar, and set you and your family members up with an overarching plan for lasting oral health and wellness.
For children, dental sealants and fluoride treatments provide additional cavity prevention. Children's tooth enamel is more vulnerable to decay until it fully hardens. Dental sealants shield the chewing surface of the molars from the acids and bacteria that cause cavities. Topical fluoride treatments strengthen tooth enamel for added defense.
If cavities, infection, or injury do pop up from time to time, your family dentist is ready with the restorative services that will help you get back to excellent oral health! Don't put off these regular visits, which are the key to healthy, clean teeth. 
About the Author
Dr. Frank A. Michitti is a Master of the Academy of General Dentistry. He and his team provide superior dental services from the comfort of our state-of-the-art Agawam dental practice. To learn more about our offerings or to schedule an appointment, you are invited to contact the office at (413) 786-4400.