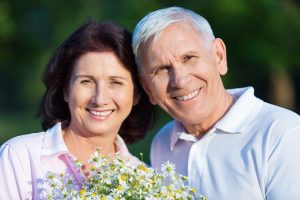 When people think of dentures, they almost immediately imagine an older person with sagging, wrinkled facial features. If you're in need of advanced tooth replacement, poorly fitting, unnatural looking dentures are no longer what you should be expecting. Instead, today's dentures provide comfortable, stable smile restoring results. Before you invest in dentures, there are a few things you need to know.

1 – The Statistics
In the past several decades, the numbers of partially or fully edentulous (without teeth) people has decreased. This is due in large part to improvements in at-home and dentist-provided preventive dentistry services. However, if you think you'll be the only one with dentures, think again. According to the following statistics, you'll be in good company:
36 million people in US have no teeth at all

15% of the 36 million have dentures made annually

90% of people without teeth have dentures
2 – Improvements in Today's Dentures
Today's dentures are crafted from higher quality, lighter materials and they are much better fitted, so they look and function more like natural teeth. Partial dentures (or just partials) are made of a gum-colored base material that anchors replacement teeth. The denture base is molded to fit snuggly between healthy remaining teeth, and the entire prosthetic snaps into place with metal clasps. A full denture uses a similar gum-colored base material, but it does not have any surrounding healthy teeth for support. Instead, the base is formed to fit against the gum line, creating natural suction that holds the denture firmly in place.
3 – Semi-Permanent Dental Implant Retained Dentures
Most dentists now offer dental implant supported dentures. Unlike traditional, removable partial and full dentures that need to be replaced every five to seven years, implant supported dentures can last a decade or longer. In fact, some patients with implant retained dentures are able to keep the same tooth replacement prosthetic for the rest of their lifetime.
4 – Investing in preventive Care May Prevent Tooth Loss
If you still have all of your healthy natural teeth, a little extra time invested in your treatment may mean you can keep your whole smile healthier longer. Brush your teeth twice a day, floss daily, and visit the dentist at least twice a year. With just this minimum effort, you will dramatically decrease your risk for tooth loss. Additionally, preventive care is often covered by dental insurance providers whereas only a small percentage of the cost of more advanced services like dentures will be covered.
Meet Dr. Frank Michitti
At the Feeding Hills dentistry practice of Dr. Frank Michitti, we are passionate about helping patients find the best possible dental treatments. The goal is not to "sell" you anything or make your decision for you. Instead, Dr. Michitti and his team members truly consider themselves your partners in planning for dental care. This is especially important when you need advanced dentistry services like dentures. If you want to find out more about tooth replacement options or any other dental services we provide, please don't hesitate to contact our office to find out more. We'll do our utmost to answer any questions you may have over the phone, and find a time for you to visit our team for a consultation.