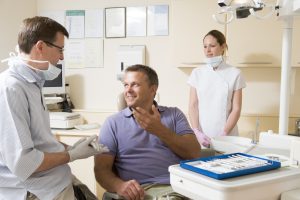 Alright, get out your new year's resolution list and add healthiest smile. In 2018, you have a fresh new start to achieve and maintain your healthiest smile. The first step is to find a provider near you to meet all of your preventive dental care needs. Even the best at-home care can't keep your smile completely free from oral health and hygiene concerns. Add twice a year visits to that mix, and you'll be much closer to a lifetime of flawless smiles. Keep reading to find out some of the easiest ways to smile brightly in 2018.

1 – Visit Your Dentist
The best way to ensure your smile is healthy, your oral hygiene routine is on point, and you're not suffering from any stealthy dental disorders, is to visit a dentist twice a year. During these preventive appointments, a skilled dentist will examine your smile. A dental hygienist will provide professional teeth cleaning to remove plaque and tartar buildup from even the hardest to access parts of the smile. Then, you'll receive a one-on-one consultation to create an ongoing in-office and at-home dental care plan that will keep your smile healthy.
2 – Amp up Your Brushing Technique & Don't Skip the Floss
Most of us know we need to brush our teeth every day and that we should floss, but the vast majority of people fall short of achieving even these oral hygiene basics. In 2018, make it your goal to spend the time you need to keep your smile healthy. You should be brushing your teeth for at least two minutes at a time, two times each day. Use a soft toothbrush and fluoridated toothpaste. Place your brush at an angle upward toward your gums, and gently brush the inside, outside, and biting surfaces of teeth. Even the most thorough tooth brushing routine cannot fully clean the spaces between teeth. That's why flossing is essential. You need to floss at least once each day to remove plaque buildup between your teeth.
3 – Maximize Dental Insurance Coverage
The not-so-secret truth about maximizing dental insurance is actually simple. Visit your dentist for biannual preventive dental care checkups, and you'll receive maximum dental insurance coverage and avoid advanced treatments that receive lower percentages of insurance coverage. Most dental insurance providers cover preventive dental care 80 to 100%. Benefit plans typically only cover restorative care between 50 and 75%, so by keeping your smile healthy, you're also saving money!
Meet Dr. Michitti
At the Feeding Hills dentistry practice of Frank A. Michitti, DDS, we are dedicated to helping patients achieve and maintain their healthiest smiles. Our practice has a focus on preventive care, and we do our utmost to help patients avoid dental damage or decay. When oral health concerns do arise, we're here to help with conservative treatments that preserve the optimal amount of dental structure. Whether it's been six months, six years, or longer since your last dental appointment, call Dr. Michitti and his Feeding Hills dentistry team at Lifetime Dental to schedule your checkup today. We look forward to creating a personalized dental care plan that will keep you smiling for years to come.