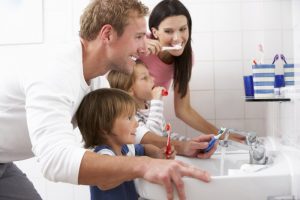 As the head of household, you have a lot of responsibilities on your plate already. They include taking care of your whole family's health—even their smiles. Sometimes, that can feel overwhelming if you have different ages in your family ranging from infants to your parents who may be seniors.
Thankfully, if you choose to visit a family dentist in Agawam, you'll be able to have everyone visit one office. This way, your whole family's dental experience will be much easier to manage! Learn more about the positives of choosing to visit a family dentist in this week's blog post.
How Can Your Family Benefit from Visiting a Family Dentist?
Bringing the whole family to the same dental office has many benefits for every one of your loved ones. Some of the many benefits include:
Helping your little one's feel safe and comfortable in the dental practice environment. You can show them what to do and demonstrate how easy and positive a dental visit can be if you cooperate and become friends with your dentist.
Your child won't feel awkward transitioning offices when they become older. Many children visit a pediatric dentist first, then move to an adult practice and experience fear of a new environment and anxiety of meeting new people. You can avoid both by trusting a family dentist.
You'll experience the ultimate convenience by being able to schedule your whole family's appointments at once. You can bring multiple people to the office around the same time to all receive the dental care they need.
A Family Dentist Offers Comprehensive Services and Personalized Care
As mentioned above, many people's families consist of different ages. Your parents may need to receive restorative care to build up their smile after years of wear and tear. You might want to receive cosmetic deal work to improve your overall smile and boost your confidence, while your child may be wanting to straighten their teeth while in school.
If you need to explore a wide range of dental services for your whole family, you can be confident that when you visit a family dentist each of your family members will receive one on one dental care to receive the services that will address their personal concerns.
Bring Your Family to An Office That Cares to Make You Comfortable
As you can probably tell, we take pride in offering a truly different dental care experience. We have something for every patient. Our relaxing office is great for adults who want to take a deep breath before they receive their dental care, taking a quick break between their busy day. It's also great for kids that want to feel like they're at a second-home!
Give your dentist a call today to schedule you and your loved one's first appointment with us!
---
About Our Office
Here at Lifetime Dental, we're always excited to meet new patients of all ages. We treat everyone like they are a part of our family and we look forward to opening our dental practice up to new patients who need an office to call their dental home. Feel free to call and schedule your appointment today!