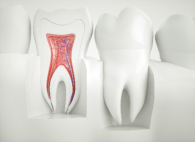 Your teeth are vital to helping you chew and speak. To keep them strong and healthy, you take the time to brush them twice a day and floss every night before going to bed. In addition, you visit your dentist in Agawam twice a year for a cleaning and checkup. These vital steps are necessary to protect your smile; however, have you ever wondered how the anatomy of your teeth impacts their health? Your teeth are made of various layers, each of which is important for the health and appearance of your teeth.

Anatomy of a Tooth
Your teeth are composed of three main layers. The enamel is the hard-outer layer, which you can see. Its purpose is to protect the inner layers of the teeth. Underneath the enamel is the dentin. This layer is also made from hard tissues. It contains millions of microscopic tubes that lead to the inside of the tooth. The inner most layer of the tooth is known as the pulp. It is a soft tissue that contains blood vessels and nerves.
In addition to the layers of the teeth, there is also a connective layer of tissue that holds the roots of the teeth to the gums and jawbone, known as cementum. There are also periodontal ligaments, which are tissues that hold the teeth tightly against the jaw.
Together, each layer is necessary for a healthy, beautiful smile. Unfortunately, they can become damaged or compromised.
Root Canal Therapy
When infection has developed within the pulp of a tooth or the enamel and dentin have become damaged due to a fracture or cavity, a root canal is often needed. This endodontic procedure removes the areas of damage from the enamel and dentin, allowing the pulp to be extracted.
The tooth is then sterilized and sealed using a special material known as gutta-percha. A custom-made dental crown is placed over it to provide an added layer of protection while also restoring its appearance and function.
Teeth Whitening
In some cases, the appearance of your teeth can become compromised due to staining of the enamel. Your enamel has small pores, which can cause foods and drinks to cause stains discoloration. This can make your smile appear aged and dull. To reserve the dark appearance of the enamel, a professional whitening treatment can be used.
By applying a highly concentrated whitening agent to the teeth, it deeply penetrates the enamel to get your smile several shades whiter. Now, you can benefit from results in a day with an in-office treatment or choose the convenience of an at-home kit.
Protect Your Smile Today
Every layer of your tooth has an important role. Protect the health of each layer with the right care at home and from your dentist.
About Dr. Frank A. Michitti
Dr. Frank A. Michitti is dedicated to creating healthy, beautiful smiles using advanced dental care. With specialized solutions for each patient, he will help to ensure your teeth look their best while promoting their health. If you need a root canal or want to whiten your smile, contact Lifetime Dental today to schedule a consultation.