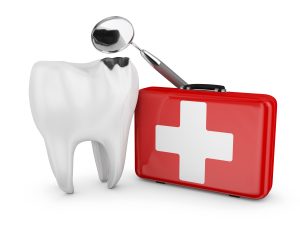 It's a typical spring day and you're going through your normal routines when, all of sudden, you find yourself in the midst of a dental trauma – a severe toothache. As the pain intensifies, what should you do? Who should you contact? Your emergency dentist in Agawam is weighing in with answers to these questions and some important information on what to do in other critical situations.
What is a Dental Emergency?
Before taking a look at some different types of emergencies and what you should do when they occur, let's first establish what classifies as an emergent situation. It's one where your oral health takes a sudden decline that requires immediate attention to correct.
Here are the first two steps to take when dental trauma occurs:
Don't Panic – Although this may seem like a cliché, it's important to remain as calm as possible when an emergency strikes. Why? The time right after the problem is discovered is very valuable. Thus, your decisions need to be thought-out and purposeful. By taking a deep breath and calming yourself, you'll have a better chance of making the right choices.
Contact Your Emergency Dentist – After you've collected yourself, the next step should be to contact your local dentist to let him know about what's going on. He may have special instructions relative to your particular type of trauma and will let you know when you can be seen.
Common Types of Dental Emergencies
Let's now take a look at some of the more common types of dental trauma and discuss what you can do at home for some temporary relief.
Toothache – A toothache is often the result of a bacterial infection that has caused severe inflammation and pain in and around the infected tooth. After contacting your dentist, you can apply ice to the outside of your jaw to reduce the swelling and take ibuprofen for pain relief.
Broken Tooth – If you suffer from a broken tooth, you may notice some initial sensitivity, but over the next few hours your saliva will coat the tooth with enzymes that will help to lessen the uncomfortable sensation. Just be sure not to chew on that side of your mouth as you await being seen by your dentist.
Knocked Out Tooth – Having a tooth knocked out can be painful and scary, but there are some simple steps for you to take. First, clean your hands well. Then, grab the tooth by the crown (the wider, rounder portion) and carefully place it back in your mouth. It's important that you not hesitate to contact your emergency dentist because the tooth will need to be addressed within two hours for it to be successfully reinserted.
Something Lodged Between Teeth – If you find yourself with something lodged between your teeth, you can try flossing to remove it and rinsing your mouth with either water or mouthwash. If you are bleeding profusely from the object puncturing any of your soft tissues, you should head to your local emergency room.
The Value of Visiting Your Dentist
When you're seen by your local dentist, he'll be able to fully diagnose the problem and determine what's the best treatment to get you back to normal. So by taking the correct initial steps, you'll have a much better chance of getting the relief you need sooner.
About the Author
A native son of Ohio, Dr. Frank A. Michitti earned his dental degree from The Ohio State University College of Dentistry. Still, he remains dedicated to expanding his knowledge and skills by taking continuing education courses every year. A recipient of the award of Master of the Academy of General Dentistry in 2016, Dr. Michitti changes lives one patient at a time at Lifetime Dental and can be reached for more information through his website.