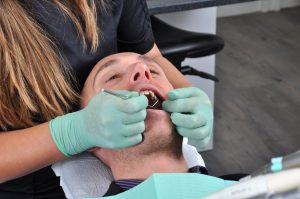 The month of April has been dedicated oral cancer awareness month. This deadly form of cancer claims one life an hour in the US alone and has a 50% mortality rate five years beyond diagnosis. With startling statistics like these, it's no wonder that medical professionals and researchers are dedicated to raising awareness. One of the best ways you can celebrate oral cancer awareness month is by visiting your trusted dentist for an oral cancer screening. During these appointments, you'll receive a gentle examination looking for the common warning signs of this disease. By receiving regular screenings during your preventive dentistry appointments, you may significantly reduce your chances for oral cancer.

Importance of Oral Cancer Screenings
Researchers with the Oral Cancer Foundation conducted numerous studies into the high mortality rate of oral cancer sufferers. Their results were not altogether surprising. What they determined was that early diagnosis was essential to reduce the numbers of annual oral cancer-related deaths. That's why regular screenings are so important. They are your best chance to receive diagnosis in the early, most treatable stages of this disease.
How Oral Cancer Screening is Performed
Oral cancer screenings are completely comfortable. Your dentist will simply examine your oral and facial structures for the common warning signs, including:
Discolored soft tissue
Sores that don't heal
Swelling or hardening of the soft tissue
Changes in the texture of soft tissue
Chronic sore throat or hoarse voice
Difficulty swallowing
Hardening or swelling in the lymph nodes
Patients who suffer from oral cancer may also engage in certain high risk activities, and your dentist will ask a series of questions that will help us determine your risk for this disease. The most common high risk behavior associated with oral cancer is tobacco usage, but there are other risk factors as well. Additionally, about 25% of patients diagnosed with oral cancer don't engage in any of these high risk behaviors.
Meet Dr. Michitti
Feeding Hills dentist, Frank A. Michitti, DDS, is proud to offer comprehensive oral cancer screenings for all of his patients during six month dental checkups. Whether it's been six months or longer since your last dental exam, it's time to visit Lifetime Dental. Our caring dentist and team will partner with you to prevent oral health concerns and diagnosis oral cancer and other conditions in the earliest possible stages. If you want to find out more or schedule your checkup visit, give our Feeding Hills dentistry team a call today. We look forward to helping you with all of your oral health and hygiene needs.