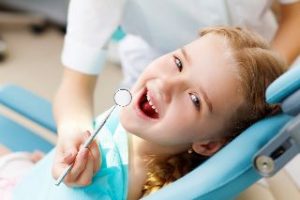 Childhood is full of firsts. The first words, first haircut, and first day of school are just a few examples of the many milestones your child will hit in their early years. Among all those firsts, one that you want to avoid is a first cavity!
Fortunately, with modern preventative care and good hygiene practices at home, children can completely avoid ever getting cavities or needing extensive dental work. Along with seeing a family dentist in Agawam, there are some simple things you can do at home to get them off to a great start and set them up for a having a healthy smile for life!
Why Is Good Oral Health in Childhood So Important?
It's not uncommon to think that baby teeth don't matter much because they're going to fall out. That couldn't be further from the truth! Baby teeth are important for all of the following reasons:
Function – Healthy baby teeth help your child eat and speak normally. Since the last baby teeth don't fall out until around age 12, it's important that they stay strong and healthy for many years.
Self-esteem – Sadly, children with oral health problems struggle more with self-esteem and social anxiety than those who don't. Good oral health helps your child feel comfortable smiling and laughing – an important part of any childhood!
Development of permanent teeth – If the baby teeth have to be extracted early because of large cavities or other problems, the permanent teeth won't come in properly, which requires treatment down the road to correct.
Furthermore, the habits established in childhood persist into adulthood and positive early experiences at the dentist set children up for a lifetime of getting routine dental care.
What Can You Expect at Your Child's First Dental Visit?
The American Dental Association recommends that children see a family dentist for the first time when the first tooth comes in or around their first birthday. If your child is older than that, not to worry – just schedule them as soon as possible!
Here's what you can expect at the first visit:
First, your child's medical and dental history will be reviewed and you'll have an opportunity to ask any specific questions you may have.
Typically, X-rays and polishing don't happen until the age of 3-4, although that can vary a bit depending on the child. Prior to that age, visits primarily entail looking in the mouth to look to make sure everything is normal and healthy. Children are usually more comfortable sitting in their parent's lap during their exam.
A dentist will discuss the best way to keep your child's teeth clean and prevent cavities. They'll also recommend the best products to use and tell you whether fluoridated toothpaste is appropriate.
If you don't live in an area with a fluoridated water supply, they can prescribe supplements so your child's teeth develop as strong as possible.
Finally, your child will get a new toothbrush and pick out a toy, which usually makes them eager to come back!
Remember, the simple act of getting routine dental care gives your child the best chance of having healthy, beautiful teeth throughout their entire lives!
About the Author
Dr. Frank Michitti is an award-winning family dentist in Agawam who has provided outstanding dentistry to patients of all ages for many years. With a warm, reassuring chairside manner, he's able to put any pediatric patient (and their parents) at ease. If you have any questions, he can be contacted via his website or at (413) 786-4400.