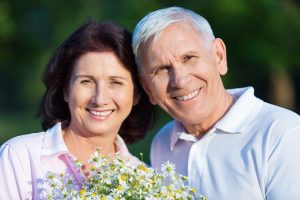 If you're dealing with tooth loss, then you know the consequences go beyond embarrassment—although that can really influence your comfort level with friends, family and co-workers. In addition, however, you may also have a tough time eating some foods and pronouncing certain words. There can be other oral health problems, too. For instance, just one missing tooth increases your risk for additional tooth loss as well as decay in remaining teeth and periodontal disease. No wonder a restorative dentist in Feeding Hills will encourage tooth replacement. One excellent option is a dental bridge. Read to learn more about this prosthetic, how one is placed and how to take care of a bridge properly.
What is a Dental Bridge?
A dental bridge has some other names like a fixed bridge or a crown and bridge.  No matter what it's called, this prosthetic bridges the gap that missing teeth leave behind in your smile. One or more false teeth are held in place by dental crowns that are attached to healthy teeth on both sides of the gap. The false teeth and crowns that comprise a bridge are made as a single unit in the dental lab. Once fabricated, your dentist permanently bonds the crowns, and the bridge is secured into place.
How is a Bridge Made and Placed in the Mouth?
Receiving a bridge usually requires only two appointments with a dentist in Feeding Hills. At the first visit, the abutment teeth that will support the bridge are prepared for dental crowns. This necessitates removing a slim layer of tooth enamel from the sides and biting surfaces so the crowns fit comfortably alongside adjacent teeth. After this, an impression is taken. This impression is what your dentist will use to create a temporary bridge. Then, the impression is sent to a dental lab that fabricates your permanent crown and bridge.
A few weeks later, you'll return to the office to have the temporary removed and your custom bridge bonded into place.
How Should I Care for My Bridge?
For the most part, caring for a dental bridge is not all that different from your regular oral hygiene routine. Brush with fluoride toothpaste and floss between the crowns and adjacent teeth. You'll also need to use a floss threader in order to reach underneath the bridge where food particles and plaque can accumulate. With proper oral hygiene, a dental bridge can last longer than 10 years.
Don't put up with the problems of missing teeth. Contact your dentist to learn how a bridge can restore your smile.
About Dr. Frank A. Michitti
Dr. Frank A. Michitti is dedicated to creating healthy, beautiful smiles using advanced dental care. With specialized solutions for each patient, he will help to ensure your smile is healthy and complete. If you are missing teeth, contact Lifetime Dental today to schedule a consultation.