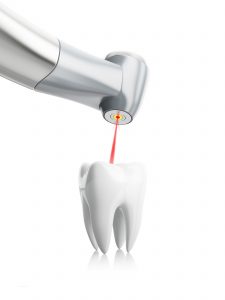 Advancements in technology continue to transform all aspects of your life—from communication abilities to your healthcare. The services you receive from your dentist in Feeding Hills is no different. New innovations improve the diagnosis and treatment process to provide more effective and accurate results. Many common procedures are now less invasive, aiding your comfort during your treatment plan. Among two of the leading changes to revolutionize your dental care involves air abrasion and laser dentistry.

Drill-Less Dentistry with Air Abrasion
In the past, when a cavity needed to be treated, it involved painful injections and drilling. Not anymore. Air abrasion treats the decay using a special tool that is like a mini sandblaster. It ejects a stream of fine particles at the tooth to remove the decay from its surface by breaking it down into fine pieces, which are then suctioned away.
This new way to treat cavities is safe and effective while offering many additional benefits when compared to the method of the past. It does not generate any heat, pressure, or vibrations, providing a more comfortable solution. In addition, it reduces the need for anesthesia.
Overall, it delivers more effective results because the decay is targeted to leave more of the healthy tissue intact. Not to mention, it reduces the risk for fracturing or chipping of the tooth for a safer alternative to drilling.
Laser Dentistry for Minimally Invasive Procedures
Laser dentistry now holds a commonplace in dental offices when performing gum surgeries, treating cavities, and other oral health issues. The highly concentrated beam of light energy targets the area to remove small amounts of hard or soft tissue with precision and accuracy.
The laser offers exceptional benefits, including the ability to sterilize and cauterize as it cuts. This reduces the risk for infection and bleeding to promote the recovery process. In addition, it leaves more of the healthy tissues untouched to protect your oral health. Now, many treatments no longer require sutures or scalpels to make the procedures minimally invasive. This reduces the need for anesthesia during many common procedures, such as gum surgery.
The lasers can be used in an array of dental procedures, including:
Canker sores and cold sores
Root canals
Gum disease
Gum inflammation
Gum contouring
Biopsies
Removal of soft tissues
Choose Advanced Technology
When it comes to your dental care, you deserve to benefit from the best. Choose a modern dentist who embraces the latest technological advancements to receive high-quality care for a healthy smile.
About Dr. Frank A. Michitti
Dr. Frank A. Michitti is passionate about dentistry. He maintains the highest standard for care when helping his patients achieve healthy, beautiful smiles. Supported by extensive qualifications and continued education, he is a reputable provider of modern dentistry. He uses the latest advancements in the dental field to provide his patients with the care they deserve. If you are ready to benefit from the best dentistry has to offer, contact Lifetime Dental today to schedule your visit.