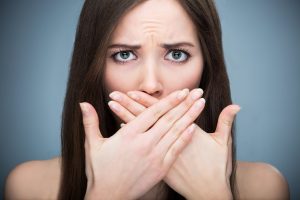 Bad breath, dragon breath, monster breath – the medical condition known as halitosis has many nicknames. If you suffer from this problem, then you may worry that your only option is to shun society. Never fear, though. Following some timely tips from a dentist can tame your odorous oxygen, enabling you to step out into the world in confidence.
The Top Five Causes of Bad Breath
Medical science knows of hundreds of possible causes for halitosis. However the vast majority of cases can be traced back to these five factors:
We have no desire to scare you. However, we should tell you that your mouth does contain harmful microorganisms. Left uncontrolled, they can cause a variety of health problems, including cavities, inflamed gums and bad breath.
Tobacco products. Cigarettes, vaping devices, chewing tobacco, smoking pipes and cigars can all have devastating effects on your breath, not to mention your overall health.
Dry mouth. Saliva contains a variety of germ-fighting compounds produced by your body. When this vital liquid is in short supply, one of the symptoms is usually bad breath.
Certain foods. Garlic, onions and strong spices may be good for your body. But they can have ruinous effects on your breath. If this is the cause of your halitosis, then consider limiting your consumption of these foods.
Tooth decay and/or gum disease. Not only are these conditions common causes of bad breath, they can also harm your health in numerous other ways.
Now that you know the five most common causes of bad breath, let's look at ways to control this common problem:
Sugar-free mints and gum. These products do more than provide temporary relief. They also encourage the production of saliva, which, as stated before, is important for lasting dental health.
Stop using nicotine-based products. Nicotine is a dangerous drug that does you no good whatsoever. It's found in vaping devices as well as cigarettes. Talk to your dentist about new medications that can help you to kick the habit for good.
Keep your dentures clean. Dirty dentures can harbor food crumbs, just like natural teeth. That's why it's important to clean and soak these dental prosthetics as recommended by your dentist or the denture manufacturer.
Practice regular brushing and flossing. As with dentures, cleanliness is all-important when it comes to your teeth. Forgetting to brush and floss encourages the buildup of bacteria-infested plaque and tartar, both of which can turn your breath from fresh to fetid.
Use mouthwash and/or dental rinse. Fluoridated brands work best. This is a great way to supplement brushing and flossing.
Other Possible Causes of Bad Breath
Some people take all of the precautions listed above and still have halitosis problems. If this is true for you, then you may be dealing with one of the following issues:
Side effects of certain antibiotics or antidepressants.
Diabetics are sometimes known for having "fruity" breath due to uncontrolled blood sugar levels.
Hereditary factors. Some people inherit a tendency towards bad breath from their ancestors. If this is the cause of your problem, then your best option may be to keep a pack of sugar-free mints on hand just in case.
Bad breath can be a source of embarrassment. But there's no reason to suffer from this condition in silence. Talk to your dentist about options that can help you to put this problem in the past for good.
About the Author
Dr. Michitti earned his dental degree from Ohio State University School of Dentistry. He also holds mastership status with the Academy of General Dentistry, a credential that requires more than 1000 hours of continuing education above and beyond a DDS degree. You can reach his office online or by calling (413) 786-4400.