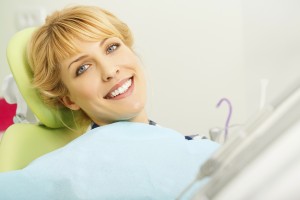 With 2018 about to roll over into a new year, now is the perfect time to make an appointment with your dentist. After all, there's no better way to start 2019 than with a fresh, clean, healthy smile. Plus, getting an appointment out of the way now will let you concentrate on your plans for the holiday season.
A World of Benefits Waiting for You To Access Them
Think about it this way: would you buy an automobile and never drive it? Or would you buy a house and never live in it? We're guessing the answer is a resounding "no." After all, when you spend your hard earned money on a product or service, you expect to get something in return; and so you should.
The same principle applies to dental coverage. Paying premiums for something you rarely use only puts money in the insurance company's pocket at your expense. It makes far more sense money -wise to access the benefits you have coming to you. While dental plans vary, most of them cover services such as these:
Regular cleanings and checkups. Both are essential for keeping your teeth and gums in top shape.
Not only will ignoring a cavity sets you up for discomfort down the road, it may even cause you to lose the tooth entirely.
Crowns, bridges and other restorative work. Most plans cover a significant portion of these procedures. The time to take advantage of this opportunity is now. Why take a chance on your coverage changing in the new year?
The Major Types of Dental Coverage
Knowing about your coverage features and limitations before you go to the dentist is important for getting maximum value for your investment. Most plans fall into one of three categories:
HMO coverage. The patient agrees to see a dentist within the HMO network. In exchange, he or she enjoys reduced fees on common services and, in many cases, caps on out of pocket expenses.
PPO coverage. These plans are similar to HMO options except that the patient may choose an out of network dentist, usually for a somewhat higher fee.
Discount plans. These differ from traditional insurance in that the patient covers the entire cost of treatment. However, he or she is entitled to discount rates available only to plan members.
Make sure you review your plan prior to your appointment. The office manager insurance specialist at your dentist's office will be happy to assist you with this process and answer your questions. The last thing anyone wants is an unpleasant surprise after treatment is completed.
Don't Have Dental Coverage? Help Is Available
Some people put off getting dental care because they lack coverage. If you find yourself in this situation, then you should know that assistance is available. Your options may include:
Free or reduced cost care at community clinics.
Assistance through government-subsidized programs.
Payment plans with your dental provider.
Private financing for dental procedures. This is a popular way to pay for cosmetic procedures such as veneers that traditional insurance may not cover.
Taking care of your teeth and gums is one of the best investments anyone can make. So make an appointment with your dentist soon. That way you can greet 2019 with a smile on your face.
About the Author
Dr. Michitti completed his studies at Ohio State University College of Dentistry before going on to earn mastership status in the Academy of General Dentistry. He is among less than 1% of American dentists to hold this advanced credential. You can reach his office online or by calling (413) 786-4400.