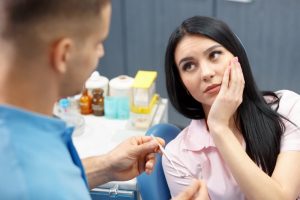 Life is crazy sometimes. One second, things are going along just fine. The next, you have a dental emergency on your hands! Whatever you do, don't panic. A dental emergency can take you completely off guard, so it's important to know in advance how to respond in case this happens to you. So what should you do in a dental emergency? No matter the situation, call your emergency dentist in Agawam for more instructions and their soonest available appointment. But how do you handle the situation until you can see them? Check out this information that can help you feel prepared for the unexpected.
Dental Emergency Scenarios
There are many potential situations that you might face in a dental emergency, including the following:
Knocked-out tooth.
Partially knocked-out tooth.
Severe toothache.
Broken crown or filling.
Object stuck in between teeth.
Chipped or cracked tooth.
Soft tissue damage.
For many of these, reacting quickly and wisely can make all the difference for treatment success.
What to Do
Here are some basic rules to keep in mind if you experience a dental emergency:
If possible, locate your tooth or pieces of your tooth, but do not touch the root or remove any tissue that may still be attached to the root.
For a knocked-out tooth, it is important to keep the root moist. Try to put the tooth back in the socket. If that is not possible, store the tooth in between your gums and cheek or in milk.
If you experience a toothache, rinse your mouth with warm water to keep it clean. Also, try flossing around the tooth to ensure that nothing is stuck. To help with pain, you can use over-the-counter medication and a cold compress.
For objects stuck between your teeth, use floss to remove it. Do not attempt to use sharp objects to pry the object out because you could end up damaging your teeth or your gum tissue.
A cracked tooth or a tooth with a broken crown or filling needs to be kept clean, so rinse your mouth with warm water.
How to Prevent Dental Emergencies
Although not all dental emergencies can be prevented, some can. If you play sports, particularly contact sports, wearing a custom-fitted mouthguard can protect your teeth. Try to stop bad habits, such as chewing on hard objects like pencils or ice or chewing on your nails. By implementing these tasks into your life, you can avoid many situations that can lead to dental emergencies.
In the end, you should always contact your emergency dentist in Agawam for an immediate appointment and specific guidance, but you can take decisive action to improve your chances of treatment success. You may not know when or how a dental emergency will strike, but you can know how you will respond when it does, giving you more peace of mind during a stressful time.
About the Practice
At Lifetime Dental, Dr. Frank Michitti has earned the status of Master in the Academy of General Dentistry, which less than 2 percent of general dentists in the United States and Canada become. He and his staff offer emergency dental care to their patients and do their best to see patients in need as soon as possible. To schedule an appointment with them, you can call (413) 786-4400 or click here.