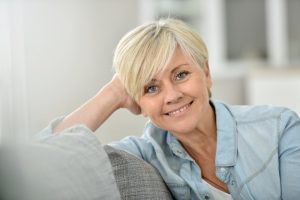 If you're living without a full set of teeth, you're susceptible to such problems as the surrounding teeth shifting and bone loss. To make matters worse, you can experience bouts of depression due to having an unattractive smile. There's a remedy, though: dental implants in Agawam. As you consider undergoing this form of tooth replacement, take a moment to learn about some of the possible complexities associated with it.
What is a Dental Implant?
When it comes to tooth replacement, the dental implant process is considered to be the "gold standard." That's because it's the only form of restoration that addresses the problem at the root level. This is accomplished by your dentist surgically inserting a titanium post into the jawbone that will later fuse with the same through an amazing process called osseointegration.
The sound foundation created then allows for a prosthetic tooth to be securely attached. While the dental implant procedure has a 95% success rate, there are some situations that can make it more complex.
Dealing with Bone Loss
One of the reasons it's so important to have a missing tooth replaced is to prevent bone loss. This can be brought on by the absence of the usual tension provided by the tooth's root.
When you visit your implant dentist for your initial examination, the professional will carefully assess your bone density to determine whether it's adequate to support an implant. It there isn't a sufficient amount available, you may need to undergo a bone grafting procedure, which involves the dentist using either human or animal bone to build up the treatment area.
After you've healed well enough from the procedure, you can then receive a dental implant, which puts you one step closer to once again enjoying a normal life.
Restoring Your Oral Health
At your initial visit, your dentist will also assess the current condition of your oral health. One of the issues that is often present is gum disease, which is the inflammation and the infection of the soft tissue due to accelerated bacteria growth.
This has to be corrected before a dental implant is placed for the following reasons:
The gums can recede and eventually leave the implant vulnerable to unseating.
The infection can eventually work its way to the bone and cause degeneration, which can lead to the implant dislodging.
Untreated gum disease has been found to contribute to oral cancer, and the last thing you want is to have your smile restored only to suffer from a more pressing problem.
In such situations, your dentist may administer antibiotic treatment to kill any lingering bacteria and restore your gum health.
Although there are some complexities that can arise with the dental implant process, with the expert care of your dentist in Agawam, you can rest assured that the proper steps will be taken to ensure you have a healthy set of teeth for years to come!
About the Author
Dr. Frank Michitti earned his dental degree from The Ohio State University College of Dentistry. A life-long learner, he has taken over 1,000 hours of continuing education, which includes advanced training in the placement of dental implants. Dr. Michitti helps patients regain their confidence by inserting dental implants at Lifetime Dental, and he can be reached for more information through his website.