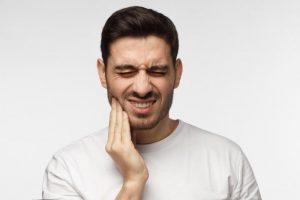 It's a perfect Saturday during the summer, and you're watching your kids have the time of their lives at their favorite park. But that's when it happens—your son or daughter hit their mouth on the monkey bars and now they have a cracked tooth. What do you do next? How can you help them? Thankfully, your emergency dentist in Agawam has the answers. The next time that a dental disaster occurs, you can use these tips for handling the most common types of emergencies to keep you and your family safe.
Painful Toothaches
If you or a family member has a tooth that starts hurting out of nowhere, you may have a toothache. This infection is typically caused by poor oral hygiene that leads to infection or decay. However, if your tooth starts hurting, floss around it and rinse water because sometimes it can just be a pesky piece of food debris. If not, call your emergency dentist because you probably need a root canal to save your tooth and prevent infection from spreading.
Lost Teeth from Dental Injury
It can be shocking if you or your child's tooth gets knocked-out. However, there is still a chance that it can be saved. Pick the tooth up by the crown (the top part) and rinse it off carefully. After, try to place your tooth back in your socket or a glass of milk or water until you're able to visit your dentist. If you can get to the dental office within the next hour, there is a chance that they can save your tooth.
Chipped or Cracked Teeth
A chipped or cracked tooth can be painful, but it's also normal to not feel any discomfort. Either way, the situation should be handled swiftly. Pick up the pieces of your tooth, rinse your mouth, and use gauze if there's any bleeding. You can also apply a cold compress to the outside of your face to reduce swelling that may occur. Once you've made yourself more comfortable, call your dentist for an appointment.
Lost Filling or Crown
Fillings and crowns are designed to protect your teeth after decay or damage, so when you lose one, it can cause pain and sensitivity. If this occurs, go to your local drugstore and use dental cement to protect the affected area. This material can safely cover your tooth to protect it from temperatures that may cause sensitivity and additional harm. However, you should go to your dentist immediately after for a proper restoration.
Meet the Dentist
Dr. Frank Michitti has an extreme passion for keeping his patients comfortable and relaxed because he had various dental issues as a kid. For this reason, he also welcomes dental emergencies, giving patients quality care when they need it most. He currently practices at Lifetime Dental, and he can be reached through his website or by phone at (413) 786-4400.