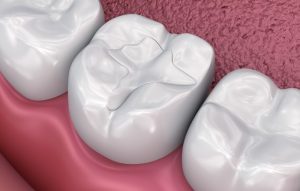 Most of us have heard the dreaded words, "You have a cavity," before. It means we're going to need one or more dental fillings. However, the procedure isn't as bad as TV and movies sometimes make it out to be. Fillings are a great way to painlessly treat cavities before they become worse and cause other health problems. So, what's the procedure like? Do fillings need to be replaced? Continue reading to learn more about fillings.
What Should I Expect When I Get a Filling?
When you need a filling, you should plan to be at your dentist's office for about an hour. If your dentist has not taken x-rays yet, this will give them time to do so and talk to you about what the procedure entails. Before doing the filling, your dentist will use a local anesthetic to numb the surrounding teeth and gums to make sure you don't feel a thing. Next, they will clean out the decayed parts of the tooth and replace it with a tooth-colored composite resin material. Your mouth will probably remain numb for a few hours after the dental work is completed.
Why Do Fillings Need to Be Replaced?
There are a few reasons why fillings need to be replaced, including:
The material could discolor over time from foods and drinks that result stains like coffee, tea, and tomato sauce.
Daily wear and tear from biting and chewing could make your fillings break eventually.
Accidents like chewing something incredibly hard or sticky could cause your filling to become dislodged.
How Often Do Fillings Need to Be Replaced?
It's nearly impossible to determine the exact lifespan of a filling. It depends on the individual person and factors like:
How well the filling was set in place
Whether you grind or clench your teeth
The type of filling material that was used
How often you brush, floss, and attend your regular dental checkups
Fillings typically can last anywhere from 5 to 15 years before needing to be replaced. However, your dentist is the best person to be the judge of your situation. If you think you need a filling, or if it has been a while since you have received a filling, it never hurts to ask your dentist to check on the status of your filling to see if it needs to be replaced.
About the Author
Dr. Frank Michitti has earned Mastership status in the Academy of General Dentistry, an achievement that less than 2 percent of general dentists in the U.S. and Canada have accomplished. This means you can trust him with all of your dental needs in Feeding Hills, MA. If you think your filling might need to be replaced, contact Dr. Michitti by clicking here or calling (413) 786-4400.