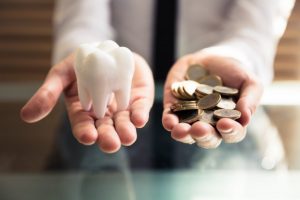 You've been missing a couple of teeth for a few years now, and you're starting to get downright sick of it. You have trouble chewing your favorite foods and singing your favorite songs. To make matters worse, you get depressed sometimes about the gaps in your smile. You've heard of dental implants as a way of replacing your lost teeth, but you're worried about how much they cost. Instead of searching "Can I afford dental implants?", read this guide on understanding dental implants and their cost.
What Are Dental Implants?
Dental implants are by far the best solution to tooth loss. Small, screw-shaped titanium posts are surgically inserted into your jawbone to replace the roots of your missing teeth. Then, over a period of a few months, your jawbone will actually grow around the implants in a process called osseointegration. Once this process is complete, your dentist will attach a metal connector known as an abutment, and a restoration, whether that be a crown, bridge, or full or partial denture. After that, no one, not even you, should be able to distinguish your implant from a natural tooth!
Benefits of Dental Implants
Implants offer a whole host of benefits over other methods of tooth replacement, such as:
Longevity: With proper care, your implants can easily last for decades, possibly even for the rest of your life.
Stability: Unlike dentures, which can slip around, dental implants stay firmly rooted in place.
Natural feeling: Once osseointegration is complete, your implant should feel just like your natural tooth.
Improved appearance: Implants can fill the gaps in your smile and dramatically boost your self-esteem.
Options for Affording Dental Implants
Dental implants might seem costly up front, but remember that you're paying for a tooth replacement that should last for decades to come. Furthermore, dental implants do not need to be replaced or adjusted every few years in the way that dentures or dental bridges do. As a result, you'll be paying significantly less in the long run.
Insurance is a great option to help cover the cost of dental implants. Even if your insurance policy doesn't cover the full cost, it may help pay for any preliminary procedures you might need, like periodontal therapy or a bone graft, and the restoration, or the crown topping the implant. You could also use a third-party financing option like CareCredit, which loans you money at very little interest to cover the cost of various medical and dental procedures.
Remember that no matter how much you end up paying for dental implants, it will be worth it to have a natural-looking, stable, and durable solution to your tooth loss.
About the Author
Dr. Frank Michitti has earned a Mastership status with the Academy of General Dentistry by taking rigorous examinations and several hundred hours of continuing education courses. He has also undergone training in dental implant placement and can perform the entire procedure right in his office. To learn more about whether dental implants are right for you, schedule a consultation by clicking here.