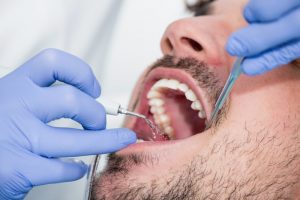 How long has it been since you have visited the dentist? Did you know that you should be seeing your dentist twice a year? The vast majority of Americans don't even see their dentist once a year, and this can result in all kinds of oral health problems, like gum disease and tooth decay. To keep issues like these at bay, it's important to regularly attend a dental cleaning in Agawam. Keep reading to learn even more reasons why.
What Happens at Your First Visit?
During a new patient visit, your dentist will thoroughly examine your teeth, gums, and previous dental work for any problems. They will also take digital x-rays of your mouth to look for issues that can't be seen with the naked eye, such as cavities in between the teeth. Finally, your dentist will examine your bite alignment and any soft tissues in and around your mouth to check for signs of oral cancer.
After the exam, your dentist will hand you off to a dental hygienist. They will give your teeth a complete cleaning with tools much more adept than your toothbrush and floss at home. These tools are especially effective at removing plaque and tartar, which harbor bacteria that can result in cavities and tooth decay.
Why You Should Attend Regular Checkups
There are many reasons why it's important to see your dentist every six months, such as:
Screening for Oral Cancer
Oral cancer is the sixth most common form of cancer worldwide, and your dentist is especially trained to recognize the signs of it. It often doesn't present any symptoms until it's too late and the disease has become fatal. If your dentist detects it soon enough at your appointment, it can usually be treated.
Removing Plaque and Tartar
Plaque is a sticky film of oral bacteria that forms on your teeth every day. Following an at-home oral hygiene regimen can get rid of it, but neglecting to brush and floss can cause plaque to build up and harden into tartar. Bacteria in plaque and tartar can cause cavities and gum disease, which is why it's crucial to see your dentist so they can remove it.
Detecting Tooth Decay
Much like oral cancer, cavities usually don't display any problems until they have seriously progressed. At this point, they might require more than a filling to treat. They might need a root canal or even a tooth extraction. Save yourself from these costly and extensive procedures by visiting your dentist regularly.
Treating Gum Disease
Gum disease is a bacterial infection in the gum tissue, typically caused by accumulation of plaque and tartar. Common symptoms include red, swollen, tender, or bleeding gums, as well as chronic bad breath. If this disease progresses, the gum tissue may pull away from the teeth and your teeth might even fall out.
Seeing your dentist every six months for a checkup might not be your favorite activity in the world, but it's massively important in keeping your teeth and gums healthy.
About the Author
Dr. Frank Michitti has earned a Mastership with the Academy of General Dentistry by completing more than 1,100 hours of post-graduate education courses and passing an exam equal in difficulty to board certification exams. He has also taken courses from the prestigious Dawson Academy in Florida. Currently, he practices at Lifetime Dental in Feeding Hills, MA. To schedule your next dental checkup and cleaning, click here to contact Dr. Michitti's office.