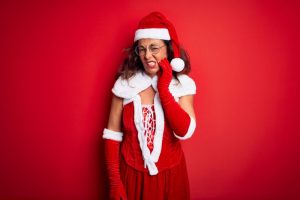 Accidents happen, even during the holiday season. Grandma spills the mashed potatoes all over the floor. Uncle Joe knocks a whole bunch of ornaments off the tree. Aunt Kathy trips over the presents and hurts her hip. But what happens when a dental accident occurs over the holidays when your dentist is closed? Read this emergency dentistry guide to learn what steps to take.
Knocked-Out Tooth
Maybe you knocked out a tooth while tossing the old pigskin around outside. In that case, locate the tooth and gently pick it up by the crown (the part visible in your smile) and not the pointed root. Rinse away any debris and insert the tooth back into its empty socket if you can. If that's not possible, place it either in between your cheek and gums or in a glass of milk.
Broken Tooth
Chowing down on some crunchy holiday cookies or candy canes may break or chip a tooth. If that's the case, gather up all the pieces you can find. Your dentist may be able to reattach them later. Apply a cold compress to the area to cut down on swelling and pain. You could also take an over-the-counter pain reliever as directed on the bottle.
Lost Crown or Filling
Sticky holiday candy can dislodge a filling or crown. If that happens, locate and wash off the restoration. Your underlying tooth will likely be more vulnerable to decay and sensitivity without the crown or filling, but luckily you can temporarily reattach it. Coat the inside with toothpaste, dental cement, or a thin layer of sugar-free chewing gum first. Whatever you do, do not use superglue!
Toothache
Nothing ruins your joyous holiday quite like a sudden toothache. While it might be something small like a cavity, there is also a chance that your tooth pain is caused by something more serious, like an infection or abscess. Either way, you're going to want to see your dentist as soon as they open after the holidays for treatment. In the meantime, you can take store-bought pain relievers. Just be sure to not place aspirin directly on the sore area, as it can irritate the gum tissue and worsen your discomfort.
There aren't many worse things that can happen over the holidays than a dental emergency. However, with this guide, you should be prepared to handle any dental accident that comes your way.
About the Author
Dr. Frank Michitti is a Master of the prestigious Academy of General Dentistry, which means that he has demonstrated his clinical expertise through rigorous examinations and more than 1,100 hours of post-graduate education. His practice will do their absolute best to get you out of pain as quickly as possible if you call them with a dental emergency. You can contact them by clicking here.