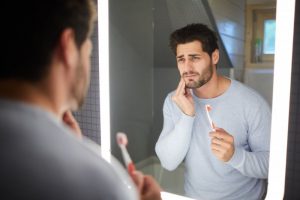 Have you heard that getting teeth whitening can cause them to become sensitive to hot and cold foods and drinks? When you invest in professional treatment administered by your dentist, you can count on all of the products being safe to use. However, when you resort to store-bought whitening kits that are rarely approved by the ADA, it can cause tooth sensitivity. Read on to learn more about the difference in side-effects between professional teeth whitening and store-bought kits.
Why Does Teeth Whitening Cause Sensitivity?
Many people report dental sensitivity when they consume hot or cold items after they use store-bought whitening kits that they get from their local department store. Even if you choose a product from a trusted manufacturer, many kits that you purchase over the counter don't contain ingredients that are always healthy for your oral tissues and teeth.
The primary ingredient that causes dental sensitivity is hydrogen peroxide, which is a common active ingredient found in store-bought kits. When you use the product at home, your teeth may begin to ache and become uncomfortable, especially if you use it for longer than recommended. Using these frequently can also result in enamel alterations, which can result in sensitivity.
How Can You Find Relief?
If you begin to experience sensitive teeth and gums after store-bought treatment, it could be due to a variety of reasons, including the ingredients in the kit, how long the product was on your teeth for, and the quality of the whitening gel or strips. Here are some ways to combat dental sensitivity caused by teeth whitening:
Reduce the amount of time you use the bleaching substance.
Use whitening products less frequently.
Avoid whitening for awhile.
Change your diet to avoid foods and beverages with extreme temperatures.
Use a soft-bristled toothbrush.
Purchase and use special toothpaste for sensitive teeth.
What's Different About Professional Treatment?
When you visit your dentist for professional in-office or take-home teeth whitening, you can trust that it won't be uncomfortable or damage your enamel. That way, you won't be gambling on your oral health in order to brighten your smile.
The teeth whitening systems that dentists use have been rigorously tested and proven to be safe and effective, which is why they're approved by the American Dental Association. These ingredients are highly concentrated, which allows them to provide fast and long-lasting results, unlike store-bought whitening kit results that may need to be retouched in as little as a month. Depending on your needs, you can choose from take-home teeth whitening that offers results in as little as two weeks, or professional, hassle-free, in-office treatment that provides results within about an hour.
If you've been throwing away money on store-bought whitening kits that have been causing tooth sensitivity and haven't been providing you with the results you're hoping for, it's time to invest in professional treatment. All you have to do is contact your dentist to schedule a consultation to learn whether you can benefit from trusted teeth whitening.
About the Author
Dr. Michitti has completed over 1,000 hours of continuing education courses so he can provide his patients with high-quality dental treatments. He offers several cosmetic services, including professional KöR teeth whitening, which contain highly effective and fresh ingredients that don't cause sensitivity or discomfort. He provides both in-office and take-home teeth whitening depending on his patients' needs. For questions or to schedule a consultation to learn whether you can benefit from teeth whitening, visit Lifetime Dental's website or call 413-786-4400.