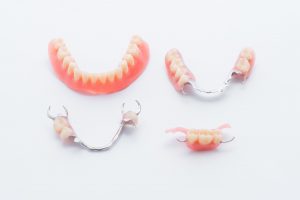 Despite continually evolving technologies and treatments, tooth loss is a real problem for many Americans. Whether from decay, disease, or trauma, 30 million Americans have lost all their natural teeth in one or both arches. If you've experienced significant tooth loss, simple tasks can be difficult, like chewing or speaking clearly. Did you know you don't need to live with changes to your quality of life? You can rebuild your smile using dentures to replace your teeth. You have more options than ever to get the exact results you want.
Types of Dentures
Whether you've lost several teeth or all of them throughout an arch, you're living with many changes in your life. Not only can you struggle to chew your favorite foods, but it's also easy to feel insecure about your incomplete smile. Your dentist will help you invest in a functional, beautiful smile using an effective solution, such as:
Partials
If you've experienced significant tooth loss but still have a few healthy teeth remaining, you might be a candidate for a partial. Prosthetic teeth fill the empty spaces of those you've lost, which are attached to a gum-colored foundation. The base has a metal framework that allows it to clip or clasp onto your teeth to hold it in place. It's a convenient solution to rehabilitate your smile, but you will need to rely on healthy teeth for support.
Dentures
Traditionally, an entire arch is replaced with a full denture. Although they have a bad reputation for looking and feeling fake, several improvements make them closely mimic your natural teeth. Advanced technology is used to create an acrylic base to hold your prosthetic teeth. This provides a comfortable fit as it rests on top of your gum tissue and is held in place using suction or an adhesive.
Implant-Retained Dentures
As an alternative to conventional treatments, many patients are choosing to stabilize their dentures with dental implants. An average of 4 to 8 posts are inserted into the jawbone to act as new roots. This allows you to enjoy the next best thing to your real teeth. In fact, you can restore as much as 70% of your natural biting force.
Rebuild a Complete Smile
If you're ready to stop the complications of tooth loss, you have more choices than ever to complete your smile. If you need a quick, convenient solution, traditional treatments might be right for you; however, if you want a more permanent replacement, you might be a candidate for dental implants. Your dentist will help you determine the best option for your specific needs and goals.
About Dr. Michitti
Dr. Michitti's passion for dentistry originates from his own past dental needs. He strives to help his patients achieve happy, healthy smiles using the latest solutions in dentistry. As the "Top 1% Dentist" for his Mastership status in the Academy of General Dentistry, you can rest assured your smile is in good hands. If you're ready to treat your tooth loss, contact our office today for an appointment.