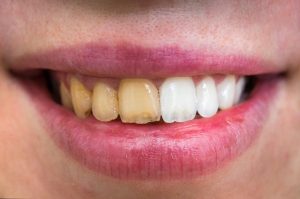 Has your smile lost its luster over the years? You're not alone. Tooth discoloration is a common complaint. You've probably tried a few over-the-counter products to turn back the hands of time. Although you had high expectations, you were left dissatisfied with the results. You're not out of options. There are multiple types of whitening treatments available. Your dentist will help you choose the best solution to reveal the bright smile you crave.
Types of Whitening Treatments
You have more options than ever to reveal a beautiful smile, like over-the-counter whitening products. Many of them claim to provide the noticeable results you want; however, most won't meet your expectations because they don't contain professional grade whitening agents. As a result, they can only temporarily lighten surface stains. If you want to achieve drastic results that last, you'll need the help of your dentist. Don't worry, here are 2 convenient options to revamp your smile.
In-Office Teeth Whitening
Traditional in-office whitening treatments use lights and lasers to treat tooth discoloration, but there is another solution. Many dentists prefer Kor products because they use a different approach. A dual-activated whitening agent is applied to your teeth in your dental office to get your teeth as much as 16 shades brighter after just one treatment. A gingival barrier is used to prevent any irritation to your soft tissues.
At-Home Teeth Whitening
You can achieve in-office results from the comfort of your own home. After an initial consultation, you're provided custom-fit whitening trays containing a highly concentrated solution that's refrigerated to enhance your results. You'll use the kit every night for 2-3 weeks depending on your treatment plan. Once you've completed your series, your teeth will be as much as 16 shades brighter for a revitalized smile.
Benefits of Kor Whitening Treatments
There are many effective whitening systems available, but patients and dentists prefer Kor whitening treatments. The unique formula allows Kor to provide results that aren't possible with other options. Various whitening treatments promise an improvement of up to 8 shades, but Kor offers twice the results because it encourages your enamel to absorb oxygen. As a result, it's more effective for removing deep stains, even those caused by tetracycline use. The gel is also refrigerated from the time the trays are made until they are used. The constant refrigeration allows the chemicals to remain the correct balance for optimal results.
Get a Bright Smile Today
You don't need to let dark tooth discoloration and stains dull your confidence any longer. You can breathe new life into your smile with a professional whitening treatment. Take your first step toward improved confidence by scheduling your consultation with your cosmetic dentist.
About Dr. Michitti
Dr. Michitti has experienced troubled teeth first-hand, which has fueled his passion for dental care. He strives to help his patients achieve happy, healthy smiles to improve their quality of life. If you don't like how your teeth look, he can help. Contact our office today to schedule your consultation for cosmetic dentistry.