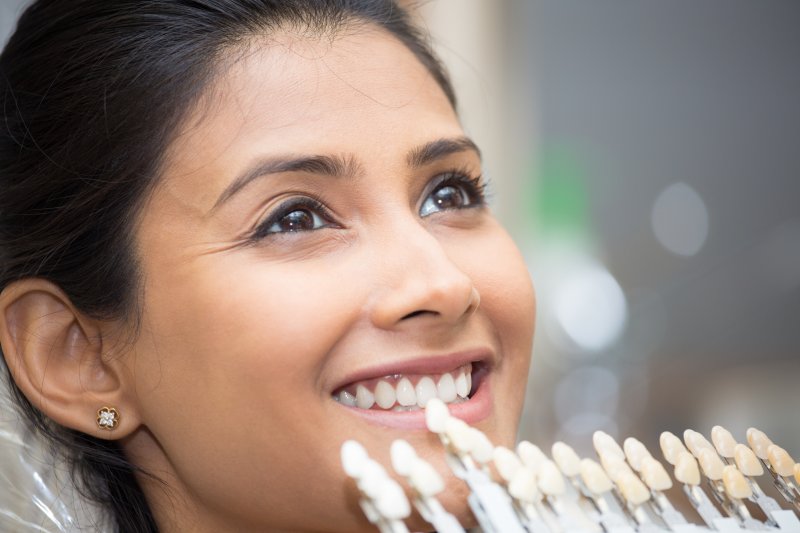 Everybody wants a beautiful smile. It isn't just a universal way of communicating; smiling can actually trick your brain into being happier. It's contagious too! Who doesn't love smiling? If you want one that you are proud to show off, you have many different options that are easy, quick, and affordable! Continue reading to learn more from your dentist about three ways you can enhance your smile and have the confident to let everyone see it!
Teeth Whitening
Over time, your teeth will become discolored for many different reasons. Whether they are stained because you're a prolonged coffee drinker, you smoke tobacco products, or you're just aging, tooth whitening is a popular and affordable option. You have probably seen teeth whitening kits when you go to your local grocery store or pharmacy, but the truth is that they are not nearly as effective as professional whitening from your cosmetic dentist. There are two types that are offered:
In-Office Teeth Whitening: If you opt for in-office teeth whitening, your dentist will cover the softer tissues in the mouth and then apply a professional whitening solution. You will see results after just one appointment.
At-Home Teeth Whitening: In-office teeth whitening doesn't sound ideal? Then your dentist can offer you an at-home kit with more gradual results from the comfort of your own home. It comes with custom-made trays and a whitening solution. In just a matter of weeks you will be showing off a bright, white smile!
Dental Bonding
If you are wanting to have a minor flaw fixed, like a small chips, stain, or misshapen dental structure, direct bonding is a great option. Your dentist will apply a high-quality composite resin and sculpt it into a shape that blends in with the rest of your tooth. They can last for several years if you take care of them properly.
Porcelain Veneers
Veneers are a very popular cosmetic dental service and are common amongst celebrities. They are thin porcelain shells custom-made to be bonded to the front surface of the tooth and cover imperfections. Here are a few of their unique benefits:
They provide a natural tooth appearance and correct numerous cosmetic flaws.
Veneers are stain resistant, so they will not change color over time.
Porcelain veneers are custom-made to the exact size, shape, and color need for the best appearance.
They are more conservative than getting a dental crown.
If you want to improve your smile without breaking the bank, consider one of the options above. You'll be more confident about your smile in no time!
About the Author
Dr. Michitti is a cosmetic dentist serving patients in the Agawam, MA area. He completed his dental degree from The Ohio State University College of Dentistry and is recognized at a "Top 1% Dentist" for achieving Mastership status in the Academy of General Dentistry. Dr. Michitti offers teeth whitening, dental bonding, and porcelain veneers at his practice. For more information or to schedule an appointment, visit his website or call (413) 786-4400.