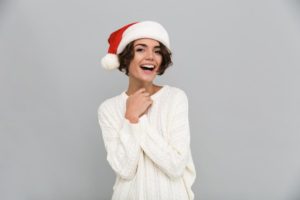 You've bought the perfect gifts, figured out exactly what you're going to cook, and made arrangements for all of your visiting family members. Still, you can't help feeling that even with all of these holiday preparations, something is missing. Suddenly, it hits you: everyone is going to take pictures, and your smile is nowhere near camera-ready. Fortunately, there's still enough time to see your dentist for a professional teeth whitening treatment. Here are four reasons why you should get your teeth whitened for the holiday season.
Look Great in All of Your Photos
These days, sending out a family holiday card just isn't enough. You'll probably want to take pictures for various social media sites. As technology improves, today's smartphone cameras are able to pick up on tiny imperfections in your teeth, like stains or discoloration. Since your smile is one of the first things people notice about you (even in photos), it's a great idea to get teeth whitening done beforehand. That way your smile will be as photogenic as possible.
Get a Jumpstart on Your New Year's Resolution
Maybe you want to become a more confident person in 2021. A discolored smile can sometimes hinder that goal. Getting your teeth whitened will give you more reasons to smile since you'll know you look great. In fact, research has shown that people with white teeth are often perceived as smarter, healthier, more attractive, and more successful.
Boost Your Self-Esteem
If you've been struggling with self-esteem issues because of your stained or yellowed teeth, professional teeth whitening is a wonderful solution. It can remove deeply set stains that remain unaffected by the vast majority of over-the-counter whitening products.
Alternatively, if someone you know suffers from low self-esteem, professional teeth whitening would make a great holiday present. A beautiful smile is one of the most meaningful gifts you could give!
Achieve Professional Success
A white smile can go a long way in terms of first impressions. Whether it's an interview for your dream job, a sales pitch, or a networking event, having a confident, healthy-looking smile can help you make great strides in your career. This is especially true if you work in business or sales, where a beautiful smile can help you close a deal.
Now that you know why the holidays are the perfect time for teeth whitening, why wait? Contact your dentist today to get started on attaining the bright smile you deserve.
About the Author
Dr. Frank A. Michitti has been recognized as a "Top 1% Dentist" for earning a Mastership status with the Academy of General Dentistry. This achievement demonstrates his dedication to continuing education and clinical excellence. At his Agawam, MA office, Dr. Michitti offers both take-home and in-office teeth whitening, so you can brighten your smile in whichever way is more convenient for you. To get a beautiful smile in time for the holidays, contact Lifetime Dental at (413) 786-4400.