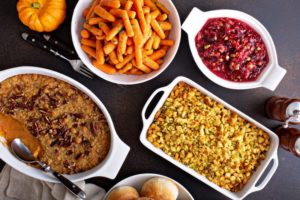 The holiday season is upon us, and with that comes loads of delicious food and time spent with family and friends. Like most people, you probably have a list of the treats you enjoy most over the holidays, but although they may be tasty, some of these goodies can wreak havoc on dental restorations. If you are one of the millions of Americans who wear dentures or implants, your expert on dentures in Feeding Hills has a list of holiday foods you might want to watch out for this season. Keep reading to learn more!
Holiday Foods to Look Out For With Dental Restorations
Maybe you can temporarily remove your teeth with dentures, or perhaps you have permanent implants. Either way, it's important to be mindful of how these commonly enjoyed holiday foods can affect your restorations:
Tough Meat:Unless you avoid meat, it's just not the holidays without a delicious ham or turkey, but beware! If the meat you're chewing isn't tender enough, your teeth will have to work overtime to eat it, which can result in dislodgement of restorations.
Hard nuts or candies: Even if you decide to forgo the meat, there are other treats like mixed nuts and hard candies that are frequently consumed around the holidays. It requires extensive force to bite down on these goodies, and if you're not careful, the excess pressure on the palate of your dentures or the implant fixture can cause damage.
Popcorn: Whether you're watching holiday movies, playing games with family and friends, or decorating the home, popcorn is often a popular snack to munch on. It may not be bad for you overall, but the small un-popped kernels can end up in your mouth, which puts your restorations at risk of being cracked or broken when you bite down.
Sticky Foods: To save the best for last – Desserts! From cookies to pies, sweet treats probably abound around your home during the holiday season. It's important to be mindful of your consumption. Their sticky consistency causes them to cling to your replacement teeth. This causes difficulty chewing, which can ultimately lead to the need for replacement.
Having dental restorations doesn't mean you have to forgo enjoying delicious goodies with friends and family. There are multitudes of options when it comes to holiday foods, so be prepared with a plan to pick the treats that will be kind to smile and help keep your teeth looking fabulous this season!
About the Author
Dr. Michitti leads the team of experts at Lifetime Dental. As an esteemed professional, he is recognized as a "Top 1% Dentist" by the Academy of General Dentistry. After spending many hours at the dentist as a child, he has an overwhelming amount of empathy for his patients. It is his priority to help them maintain the smile of their dreams in the most comfortable environment possible. Do you have a plan to protect your dental restorations this holiday season? Schedule an appointment online, or call (413) 786-4400.