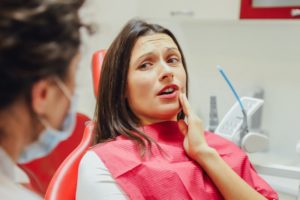 November and December are two of the busiest months for dentists. Why? Because the countdown to the New Year is also a countdown on your unused dental benefits. People are scrambling to use up the last of their benefits before they expire, so keeping your appointment with your dentist is crucial because you may not be able to reschedule before January. This includes keeping that appointment for a root canal in Feeding Hills. Putting it off can be very tempting, but that could lead to even more trouble than you bargained for. Below, you will find a short list of reasons to schedule and keep that root canal appointment before the end of the year, and what could happen if you don't.
Bone or Tooth Loss
Root canal treatments remove the infection from the tooth and help to prevent re-infection. If your dentist has already recommended a root canal, this means decay has made it past your enamel and into the dental nerve, pulp, and tiny passageways in the root. Leaving this condition untreated can allow the infection to eat away at and weaken the surrounding bone, causing both tooth and bone loss.
Abscesses
It's easy to make the decision to put off a root canal, but waiting too long can allow bacteria to form an infection that can spread. This increases your risk of other dental and medical conditions. Infection can form a dental abscess, which is a pus-filled sac that protrudes from the gums or the tip of the tooth's root. Abscesses that aren't treated by your dentist allows the infection to spread to your jaw, neck, or head. If you notice the formation of a pustule anywhere in your mouth, you should seek immediate medical attention.
Heart Attack and Stroke
If the bacteria related to a dental infection drains from an abscess to other parts of your body, the damaged cells will create an inflammatory response to fight it. Too much inflammation can cause a buildup of plaque in the arteries and blood vessels, weakening and possibly even damaging your heart. This can lead to the development of blood clots that cause strokes and heart attacks.
The end of the year is a great time to get a root canal. Your deductible is usually paid, reducing your out-of-pocket cost. You also get to use up the rest of your benefits before they expire. It's common that just the mention of a root canal treatment can be discouraging, but local anesthesia will help prevent you from feeling the procedure. So, don't let fear prevent you from taking care of your teeth. Visit your dentist as soon as possible so you can go into the new year with a healthy smile.
About the Author
Dr. Frank Michitti is very familiar with how life can be for people with tooth trouble. Growing up, he spent quite a bit of time sitting in the dentist chair, so he has a strong connection with his patients. Dr. Michitti is a Master of the Academy of General Dentistry, which means you can rest assured that he knows the latest techniques and practices in dentistry. For more information on root canal therapy or to learn more about services offered, visit the website or contact the office at (413) 786-4400.