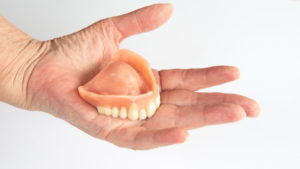 Dentures are among the most popular ways to replace missing teeth. In fact, according to the American College of Prosthodontists, over 30 million Americans rely on dentures to restore their dental function and appearance. However, these artificial teeth can only do their job well when they fit properly. Dentures that are too big or too small can not only cause a great deal of discomfort, but they can contribute to serious health problems as well. Want to know more? Keep reading to discover 5 health problems that ill-fitting dentures in Feeding Hills can cause – and how your dentist can help.
What Causes Dentures to Become Loose?
When an adult with missing teeth chooses dentures, their dentist will first evaluate their gums to make sure their new teeth will fit comfortably and securely. However, the mouth can change a lot over time. When a person ages, their gums and jawbone may shrink from the lack of tooth root stimulation. As a result, dentures that used to fit perfectly may eventually become loose and uncomfortable.
How Can Ill-Fitting Dentures Impact My Health?
Here are just some of the ways that ill-fitting dentures can have a serious impact on your oral and overall health.
#1: Gum irritation
Dentures that do not fit properly often rub against the gum tissue and cause inflammation, raw spots or bleeding. Cuts or scrapes on the gums can increase the risk of infection. Prolonged gum inflammation may also increase the risk of oral cancer.
#2: Blisters
Unnatural rubbing by loose dentures can also cause blisters to form on the gums and other tissue inside of the mouth. Blisters are the body's way of trying to protect itself from scraping.  
#3: Difficulty Chewing
If your mouth starts to hurt from ill-fitting dentures, it may become difficult to chew. As a result, maintaining the healthy and balanced diet that your body needs will likely be a challenge.
#4: Headaches
Pain caused by denture problems can spread upward from the mouth to cause headaches and earaches.
#5: Bite Problems
If your dentures do not fit properly, you may develop an uneven bite. Bite problems can increase the risk of oral infection in some cases. Uneven pressure from ill-fitting dentures can cause serious TMJ issues as well.
How Can My Dentist Help?
As you can see, ill-fitting dentures can negatively affect your daily quality of life and cause serious health problems. Fortunately, your dentist can help!
Denture relining involves adding material to the inner plate that hugs the gums and is designed to ensure that dentures fit comfortably and securely. This common procedure can typically be completed in just a single appointment. For bigger adjustments, your dentist may take impressions of your mouth and send them to a dental laboratory for relining.
If your dentures in Feeding Hills are causing you discomfort, do not wait to seek relief. Preserve your oral health and boost your smile by contacting your dentist today!
About the Author
Dr. Frank Michitti helps restore the smiles of his neighbors in Feeding Hills with quality dentures, bridges and dental implants. He is recognized as a "Top 1% Dentist" for achieving Mastership status in the Academy of General Dentistry and has completed over 1000 hours of continuing education. Patients experiencing denture problems can contact Dr. Michitti online or by calling 413-786-4400.