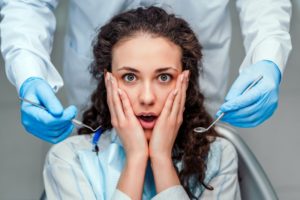 The COVID pandemic has certainly changed the lives of all Americans. In addition to the direct health threat posed by the virus, many people are experiencing elevated stress levels. It just so happens that dentists are noticing an increase in cracked teeth and crowns. Is there a correlation between these dental emergencies and COVID? Continue reading to get the answer and to learn about the value of a checkup.
The Relationship Between Stress and Dental Health
The Centers for Disease Control (CDC)'s website notes an increase in the number of people battling stress and anxiety since the COVID pandemic took front stage. The resulting symptoms have manifested in the following ways:
Feelings of fear, anger, sadness, worry, numbness or frustration
Changes in appetite, energy, desires, and interests
Difficulty concentrating and making decisions
Difficulty sleeping or nightmares
Physical reactions, such as headaches, body pains, stomach problems, and skin rashes
Worsening of chronic health problems
Worsening of mental health conditions
It should be noted that elevated stress levels can lead to jaw clenching and teeth grinding (called bruxism). The latter can lead to premature enamel wear and cracked teeth and crowns. Furthermore, bruxism can bring about a painful condition called temporomandibular joint disorder (TMD), which is the inflammation of the joints that open and close the mouth.
Treatment for Bruxism
Thankfully, the treatments for bruxism and stress are complementary. It starts with a dentist custom designing a nightguard, since a fair amount of teeth grinding happens while sleeping. As pertaining to reducing stress and anxiety, here are some potentially effective methods:
Counseling
Eating less processed foods
Morning yoga and stretching
Adopting an exercise regimen
Meditation, prayer and breathing exercises
What if You Have a Cracked Tooth or Crown?
If you discover you have a cracked tooth or crown, you should immediately reach out to an emergency dentist to schedule a visit. To slow down any bacteria growth, rinse your mouth with a salt-water solution. If there is any discomfort or swelling, take ibuprofen (Motrin, Advil or Aleve) and apply ice to the outside of your jaw in 20-minute increments.
Along with restoring your oral health, the dentist will provide tips for ways to prevent a similar mishap in the future. Therefore, your visit will be restorative and preventive.
Even if you're not currently experiencing a dental emergency, don't wait until a crisis strikes to take action. Scheduling a dental visit will provide you with the peace-of-mind of knowing the condition of your teeth. Therefore, if a problem is on the horizon, it can be nipped in the bud before it gets worse.
Unfortunately, there's no guarantee about how long COVID will be a huge factor in the world, but it's good to know that your local dentist is still available and willing to provide the care you need!
About the Author
Dr. Frank Michitti earned his dental degree from The Ohio State University College of Dentistry. As a testament to his desire to further expand his knowledge, he has earned Mastership status in the Academy of General Dentistry. With the combination of a rigorous educational background, continued learning and years of experience, Dr. Michitti is able to meet the varied needs of his patients. He restores broken teeth and crowns at Lifetime Dental, and he can be reached for more information or to schedule a visit through his website.