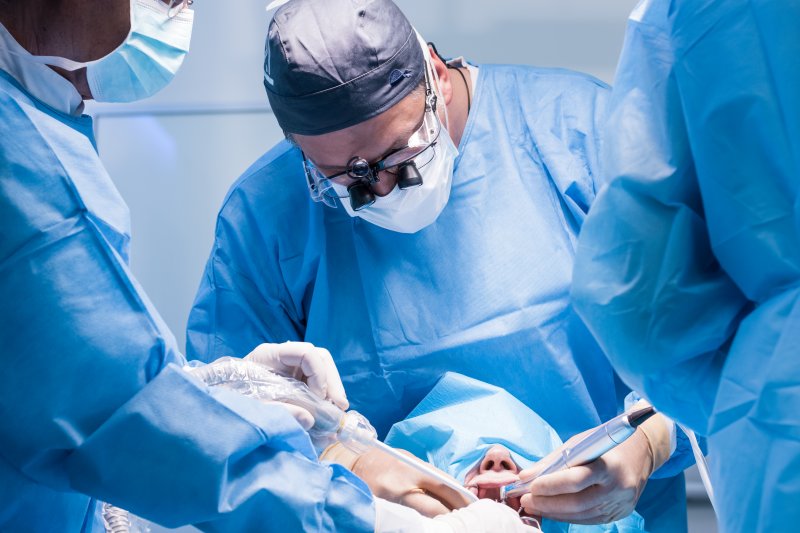 Unless you've done your research, it is unlikely that you know what to expect after undergoing dental implant surgery. Yes, there is a span of several months of recovery that you will be required to complete at home, but what exactly occurs during this time? Will you be in much pain? Are there foods you'll need to avoid? A local dental expert is here to answer your questions and address your concerns, providing greater insight to help better prepare you for your upcoming procedure.
1. Is Bleeding Normal After Leaving the Office?
After your procedure, it is not uncommon to notice some blood coming from the surgical sites. In fact, this may last for 2-3 days. Although your dentist will place gauze in these areas to cease bleeding, you will need to continue to apply pressure for the first hour after your surgery. Avoid spitting or rinsing, as these can cause the areas with implants to bleed more.
2. Will I Be In Pain During Recovery?
Once the anesthesia wears off, you can expect to feel some soreness and discomfort. No matter if you receive a prescription painkiller or are resorting to over-the-counter pain relievers, make sure to take them as instructed. It is best to take something the moment you begin to notice any discomfort and not wait until the effects of the anesthesia are no more.
3. Can I Brush My Teeth?
One of the agreements you will make with your dentist when choosing to move forward with dental implants is to maintain good oral hygiene. After your surgery, you will need to wait 24 hours before brushing your teeth, but you can rinse (carefully) with mild saltwater. Just remember not to spit. When beginning to clean your teeth with a toothbrush, be mindful around your surgical sites and do not use mouthwash or hydrogen peroxide to rinse your mouth for at least 2 weeks.
4. When Will I Be Able to Return to "Normal?"
One of the most common questions patients ask is when they can go back to work or resume normal activity. Although you will need to be careful of your mouth throughout the duration of your healing time at home, it is possible that you can resume your normal schedule after 3 full days. However, this is often dependent on how you're feeling and the complexity of your dental implant surgery. It is best to get as much rest as possible and limit your activities until you are no longer taking pain medication.
5. When Can I Expect to Get My New Teeth?
The dental implant process does take time and requires much patience on your part. Because osseointegration can take anywhere from 3-6 months to complete, there is a chance that around the 6-month mark, you will receive your customized restoration. Although, this timeline can be shorter or longer depending on the location of your implant. No matter if you need a dental crown, bridge, or denture, you can trust that your new teeth will look and feel completely natural.
Knowing what to expect when preparing for dental implant surgery is important. Not only will you feel more confident about your procedure, but you'll be better prepared to ensure a swift and successful recovery.
About the Author
Dr. Frank Michitti is recognized as a "Top 1% Dentist" because of his Mastership status in the Academy of General Dentistry. Leading a team of expert professionals at Lifetime Dental, he and his team understand you probably have many questions before undergoing any type of oral surgery, especially dental implant placement. Although these permanent prosthetics are considered the gold standard of tooth replacement, you may still have concerns about the procedure and necessary aftercare. If you would like to learn more about what you can expect after having your titanium implants put into place, visit our website or call (413) 786-4400.