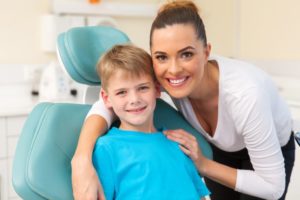 As the leader of your family, you're responsible for making sure everyone is taken care of. When it comes to their dental health, how can you accommodate the varied ages and needs of your family members? Is it better to work with several dentists to ensure everyone receives the care specific to their needs, or is there an easier way? As you continue reading, discover 5 reasons why it's better to choose a family dentist.
#1 – Consistent Care
It's virtually impossible to receive consistent care when you're working with several practices. That's because each dentist will have his or her own way of providing care and structuring visits. Since consistency is highly important, you'd be better suited working with a family dentist who can provide flexible care in a highly proficient manner.
#2 – Access to an Array of Services
One of the core reasons that family dentists are so valuable is that they can provide a host of services. In preparation for caring for a wide spectrum of patients, they undergo a rigorous training process. Therefore, they can meet the dental needs of children, while also effectively responding to the age-specific needs of the most senior members of your family.
#3 – Relationship Security
Long-term relationships provide security, which is important for people of all age groups. With each positive experience, your family's trust will grow. Even better, they're dental health will continuously improve.
#4 – Centralized Information
It can be a hassle trying to track down dental records from multiple practices. When you work with a family dentist, everyone's information will be centralized and easily accessible. This can be particularly helpful when establishing whether there are certain traits that are affecting the entire family.
#5 – Healthy Habit Encouragement
While your children are young, it's important that they establish healthy habits. Therefore, they can positively transition into adult life. The happy memories your little ones have of the entire family visiting the same dentist will resonate for years to come and encourage them to follow in the same footsteps when they become the head of their own families.
Once you've identified the right family dentist to meet your needs, the next step is to take action by scheduling a visit. In doing so, you'll be able to get an idea of where everyone's dental health stands so you can facilitate any changes that need to be made. This will prevent headaches later on and provide the peace-of-mind of knowing that you and your family are healthier and happier!
About the Author
Dr. Frank Michitti is a graduate of The Ohio State University College of Dentistry. A Master in the Academy of General Dentistry, he has received additional advanced training from the Dawson Academy in Florida. With over 1,000 hours of completed postgraduate training, Dr. Michitti is able to effectively meet the needs of patients of all ages. He provides dentistry for the entire family at Lifetime Dental, and he can be reached for more information or to schedule a visit through his website.