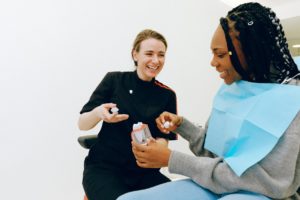 If you're unhappy with the way your smile looks, you have more options than ever to fix the imperfections. Among the most popular solutions are porcelain veneers and dental crowns. Although they are similar, there are many differences between the two. Here's what you need to know to determine if veneers or crowns are right for you.
What are Porcelain Veneers?
A veneer is a custom-made shell that only covers the front surface of a tooth, which is most often used for cosmetic reasons, such as to fix:
Stains and discoloration
Chips and cracks
Shorter than average teeth
Gaps between teeth
Porcelain veneers are most often recommended for patients who are interested in correcting several aesthetic issues using only one minimally invasive treatment. Most patients will need an average of 4 to 12 veneers to improve the appearance of the front teeth. Although they can be placed on the molars, it's not always recommended because they can break from the pressure of chewing.
Since veneers are mainly used for elective purposes, it's rare for a dental insurance to cover their cost. While they may be initially more expensive than other treatments upfront, they can last for a decade or longer with the right care, like committing to your oral hygiene.
What are Dental Crowns?
A dental crown differs from a veneer because it covers the entire surface of a tooth above the gum line. You'll need to significantly alter the structure of your tooth; therefore, crowns are most often used to treat restorative issues, like severely decayed or broken teeth. Modern crowns are made of all-ceramic material, so they look natural and offer some cosmetic benefits. Your dentist may recommend crowns to treat:
Dark stains and discoloration
Significant tooth decay
Large breaks or fractures
Abnormally shaped tooth
A crown is thicker than a veneer, so it can withstand the pressure of biting and chewing, making them the ideal option to treat molars. Since they offer restorative advantages, they are often included in dental insurance plans. Depending on your policy and if the crown is deemed necessary to your oral health, your benefits may cover 50% to 80% of the cost.
Which is Best for Me?
Your dentist will perform a thorough examination of your teeth and learn more about your goals to create a personalized treatment plan. They'll explain all your options, as well as the pros and cons of each procedure. Your dentist will help you choose the best solution to achieve the flawless smile you deserve. No matter which you choose, you'll enjoy natural-looking results that can last for years.
About Dr. Michitti
Dr. Michitti has been recognized as a "Top 1% of Dentists" for achieving Mastership status in the Academy of General Dentistry. He has over 1,000 hours of continuing education in complex procedures, like restorative and cosmetic dentistry. He has also completed courses at the Dawson Academy to help you achieve a healthy, beautiful smile. If you're interested in crowns or veneers, contact our office today to schedule a consultation.