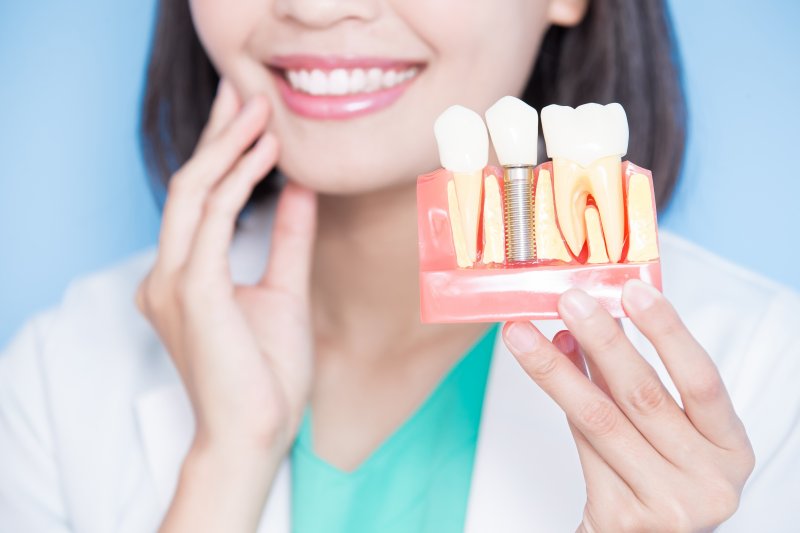 More than 35 million Americans have missing teeth – and that number is growing by a whopping 500,000 annually. Are you a part of this statistic? If so, you may be researching your options for tooth replacement. Dental implants are a popular solution that provides outstanding, life-long benefits. Learn more about this option to determine if it's the right one for you.
What Are Dental Implants?
A dental implant involves three parts: an implant post, an abutment, and the final restoration. A titanium implant post is inserted directly into the jawbone to mimic the roots of missing teeth. Unlike other methods, this treatment is unique because the placement creates a reliable and long-lasting foundation for your new tooth (or teeth). Your new smile will look, feel, and function just like natural teeth!
The Dental Implant Procedure
Here's a rundown of what you can expect from the dental implant process:
Dental Implant Consultation – A consultation with your dentist is the very first step to determine your candidacy. They will thoroughly evaluate your oral and overall health to ensure nothing will interfere with successful implantation.
Dental Implant Surgery – Local anesthetic or sedation will be used to ensure your total comfort. Your dentist will make an incision in the gums to expose the jawbone and insert an implant post directly into the bone. Then, they'll stitch you up and place a protective cap over the implant post while your mouth heals.
Dental Implant Osseointegration/Abutment – After your surgery, the implant post will fuse with the surrounding bone tissue during a process called osseointegration. It may take 4-6 months of healing before your mouth is ready for the next step.
Dental Implant Restorations – Your dentist will be creating your final restoration while you recover. A custom crown, bridge, or denture will be attached, leaving you with a gorgeous new smile!
Benefits of Dental Implants
Dental implants are a popular solution because there are several benefits to reap, including:
A smile that looks and feel natural
Durability and stability
Easy maintenance
Renewed self-confidence
The Cost of Dental Implants
Since every smile has different needs, there is no set price tag for implants. The number of teeth needing replacement, their location, the type of implant, and your overall health are just a few factors that influence the total cost. Your dentist can examine your teeth and give you an accurate estimate during the consultation.
In a nutshell, dental implants are the best solution to restore your teeth and confidence. Consult with your dentist to start your journey, and the days of hiding your smile will soon be a distant memory of the past!
About the Author
Dr. Frank A. Michitti is committed to building long-lasting relationships with patients, guiding them through the lifelong journey of maintaining optimal oral health. He has completed over 1,000 hours of continuing education, building exceptional skills in the placement and restoration of dental implants. Dr. Michitti can personally complete every step of the dental implant process, meaning you won't have to refer to outside specialists for any services! To schedule a consultation, visit our website or call (413) 786-4400.