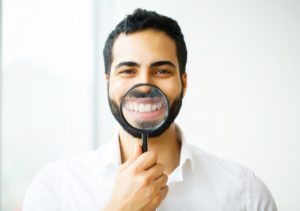 You've just spent a substantial amount of money straightening your teeth with braces. When you finally get them taken off, you glimpse at your newly aligned smile in the mirror only to find that your teeth are now filled with blotches of uneven color. Don't worry; tooth discoloration after braces is actually fairly common. That's why most dentists offer professional teeth whitening treatments to help you finally achieve your dream smile. Read on to learn why you might need teeth whitening after braces and how to do it safely!
Why Are Teeth Discolored After Braces?
While wearing braces, it's important to still brush and floss every day. Good oral hygiene prevents oral health issues that could complicate or lengthen your treatment process. However, the braces themselves aren't what causes discoloration; plaque and tartar are usually to blame. Brackets and wires can make it difficult to clean every surface of your teeth, giving plaque and tartar ample opportunity to build up and create yellowish stains. The reason why your teeth might look so dramatically discolored is that the areas of your teeth underneath the brackets typically remain white while the rest of the tooth yellows, leading to an uneven appearance.
Why You Should Leave Teeth Whitening to the Professionals
Once your teeth are braces-free again, you have several options for brightening your pearly whites. After all, you can find countless kits, strips, toothpastes, mouth rinses, and other whitening products at your local pharmacy or grocery store. However, these items are almost never worth using, as the results they deliver are short-lived and lackluster at best. Not to mention, they can aggravate tooth sensitivity. That's the last thing you want at the moment since orthodontic treatment often leaves teeth feeling a bit more sensitive for a while afterward.
Professional teeth whitening from your dentist, on the other hand, is safer, more effective, and more comfortable than over-the-counter whiteners. Whether you choose their convenient take-home whitening kits or their dramatic in-office treatment, your smile will be even and bright by up to ten shades.
How Long Should I Wait to Get Teeth Whitening After Braces?
Most dental professionals recommend waiting at least six months between getting your braces off and whitening your teeth. This period gives your teeth enough time to become stronger and less sensitive as they adjust to life without braces. Also, your saliva will naturally wash away the discoloration to some extent. It's a good idea to give it some time to even out the shade of your pearly whites.
Don't let uneven stains on your teeth keep you from enjoying the attractive, confident grin you've been dreaming of. Ask your dentist about teeth whitening after braces to help your smile really shine!
About the Author
Dr. Frank Michitti has been recognized as a "Top 1% Dentist" for earning a Mastership with the Academy of General Dentistry. This achievement demonstrates Dr. Michitti's dedication to clinical excellence and learning about the latest techniques and best practices in the dental field. At Lifetime Dental, he offers both in-office and take-home teeth whitening in Agawam, MA. To learn more about teeth whitening after braces, contact Dr. Michitti at 413-786-4400.