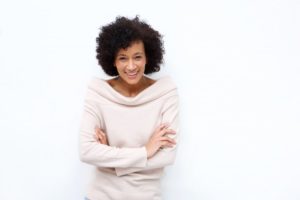 When it comes to advancements in dentistry, your dentist should be on the lookout for the best innovations and bringing them to you to fight old problems like gum disease. Although very common, untreated gum disease can have serious consequences for your oral and overall health. It is the leading cause of tooth loss in adults and has been directly linked to heart disease, uncontrolled diabetes, and Alzheimer's.
In the past, addressing gum disease was a long, arduous process with scaling, root planing, and even surgery. But now, Perio Protect is changing how this disease can be treated. In this post, you'll learn more about this new method and its many benefits.
What Makes Perio Protect Different
When bacteria and plaque form beneath the gumline, it can be very difficult to access these pockets. Deep professional cleanings (i.e., scaling and root planing) as well as surgery involve pulling back gum tissue to gain more access, but there are still little areas where bacteria can lurk.
While these treatments tend to be more invasive, Perio Protect delivers medication to the spots that need the most attention. Plastic trays isolate the medication to reach deep into periodontal pockets. Here are more of the specific ways that Perio Protect stands out from other periodontal therapies.
Effectiveness
Although there is no one-treatment "cure" for gum disease, using Perio Protect can help you achieve oral health again by eliminating harmful bacteria under the gumline. This area can be challenging to reach for more traditional treatments, but the plastic trays are designed to seal the medication in these pockets and remove the source of the infection.
Convenience
Often, scaling and root planing have to be repeated every few months because it is difficult to clear away all pathogenic bacteria. This means multiple, frequent visits to the dentist's office. However, Perio Protect is administered right at home and typically only needs to be done for a few minutes every day. This easy treatment can fit into your busy schedule and help you get your smile back to full strength.
Comfort
In order to perform scaling and root planing, your dentist likely needs to use a local anesthetic. Likewise, surgical treatment also includes anesthetic and involves some healing afterward. Perio Protect, on the other hand, simply entails wearing custom trays over your teeth and gums. Impressions ensure that the trays are fabricated for your specific smile and fit comfortably.
Fringe Benefits
In addition to addressing gum disease, you can also enjoy a few extra pleasant side effects. The hydrogen peroxide medication kills bacteria that cause bad breath and whitens your teeth. You'll have even more reasons to smile!
If you struggle with gum disease, you don't have to settle for the traditional treatment methods. Perio Protect can make the journey back to oral health as smooth and simple as possible and allow you to regain a strong smile!
About the Author
In his career, Dr. Michitti has achieved what only the top 1 percent of dentists has. He has Mastership status in the Academy of General Dentistry. In addition, he has also studied with the prestigious Dawson Academy in Florida. In his practice, Lifetime Dental of Agawam, he treats gum disease through traditional scaling, root planing, and antibiotics, but he also uses Perio Protect. If you would like to schedule an appointment with Dr. Michitti to discuss Perio Protect, you can contact the practice here.