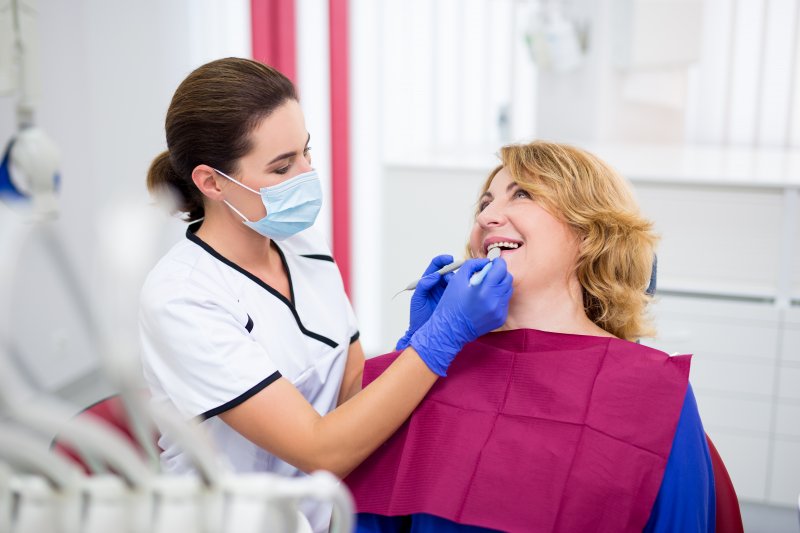 Even though dentures are a common method of tooth replacement, there are several misconceptions about them. One myth is that if you wear full dentures, you don't need to visit your dentist as often as someone who still has all their permanent teeth. However, that couldn't be further from the truth. There are several crucial reasons why you should stay on top of your routine visits, regardless of whether you have full or partial dentures. Continue reading to learn more about the importance of regular dental checkups with dentures.
Maintain Good Oral Hygiene
Whether you have few or no natural teeth, it's still critically important to maintain good oral hygiene. You're still at risk for oral health problems and other complications, even with dentures. If you have some natural teeth remaining, they're at an increased risk of decay and cavities because food particles can get stuck between the dentures and your teeth. The dentures themselves can be subject to plaque buildup that requires professional cleaning. That said, regular dental checkups are essential to prevent issues like decay, cavities, and gum disease.
Early Detection of Oral Health Issues
By visiting your dentist regularly, they can monitor your teeth, gums, and dentures to ensure there are no concerns. Preventive checkups can aid in the early detection of potential dental issues like gum disease and oral cancer. Studies show that people with dentures (particularly ill-fitting ones) are at higher risk of oral cancer, meaning there's even more reason to see a dentist on a regular basis. They're fully equipped and capable of taking immediate actions should any warning signs appear.
Denture Adjustments
Over time, the hard and soft tissues in the mouth tend to change. These shifts can change your bite and throw off the fit of your dentures, resulting in discomfort and an increased risk of health issues like gum disease, sores, TMJ, sleep apnea, and even poor nutrition. Because of that, it's normal for dentures to require fitting adjustments every few months. If your dentures are ever uncomfortable, prone to slipping, or click when you're talking, they're signs that indicate you should see your dentist sooner.
Prolong the Life of Your Dentures
Regular dental checkups ensure that your dentures are looked over for signs of damage or other issues. These routine visits allow your dentist to adjust and repair as needed to maintain the functionality of your dentures. They'll also provide you with proper at-home care instructions, so you're equipped to do your part in extending your denture's longevity every day. With proper dental care, you can expect your new smile to last several years!
No matter how many natural teeth you have left, visiting your dentist regularly should remain a critical part of your oral care routine. So, if you have dentures, make sure you schedule regular preventive care – your oral health will thank you!
About the Practice
At Lifetime Dental of Agawam, we're committed to helping patients of all ages achieve and maintain optimal oral health. Our team provides comprehensive, individually tailored, exceptional dental care that's guaranteed to leave families smiling after every appointment. If you have dentures, don't hesitate to contact us for regular preventive care. We'll make sure your new smile lasts as long as possible. Visit our website or call (413) 786-4400 to make an appointment.