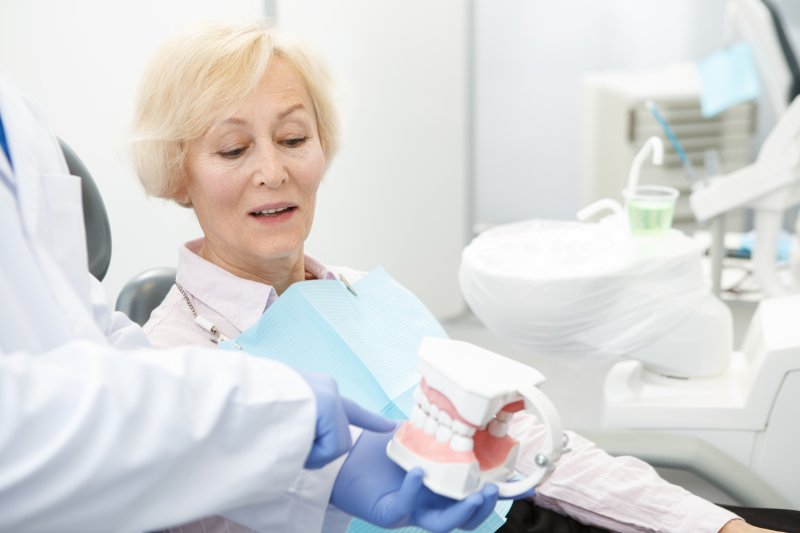 Millions of Americans suffer from tooth loss. If you're a part of that group, you know from experience how much it can affect your quality of life. Well, dental implants are an excellent solution that can give you the smile you've always wanted. However, the process requires surgery, which means you should be well-informed before making a commitment. With that in mind, here are five questions you should ask at your dental implant consultation.
Am I a Good Candidate for Dental Implants?
Although there are several methods of tooth replacement, dental implants are the most permanent solution. Because they look, act, and feel like natural teeth, they're a much more convenient option. However, implants are not a viable option for every patient. Aside from a healthy jaw and gums, you must not have any poor habits (i.e., smoking or using tobacco products). At your consultation, your dentist can inform you whether or not dental implants are an option for you.
How Much Experience Do You Have with Implants?
Choosing the right implant dentist for your procedure requires as much thought and research as buying a new car or home. To ensure you're getting quality care, ask your dental team about their experience with implants. They should be more than happy to share their experiences and qualifications! Working with a dentist who performs the procedure regularly will increase your likelihood of the procedure going smoothly.
Do You Complete the Entire Process In-House?
Every dental office has a different process. Some will place the implant and attach the crown in-house, while others will only attach the crown. The latter may simply refer you to an oral surgeon. That said, it's important to find out whether you're working with multiple providers or the same dentist from start to finish.
Can You Explain the Procedure?
Ask your dentist to explain the procedure and pay attention to how long they say the process will take. Some dental offices say they can complete the entire surgery in one day, while others may take longer. Even though same-day dental implant surgery sounds appealing, it often results in poor success rates. Your mouth needs a few months to heal before the crown can be installed.
Are Dental Implants Long-Lasting?
Dental implants are certainly the most permanent solution for missing teeth, but how long will they last? With proper dental care, you can expect your implants to last about a decade or longer. It's crucial to ask your implant dentist about their plan to maximize the longevity of your new smile.
Are you ready to start your journey towards a beautiful, new smile? Make sure you ask the right questions first. By doing so, you can feel confident in your decision to move forward with the implant process!
About the Practice
At Lifetime Dental of Agawam, we provide exceptional and compassionate dental care that's beyond what's anywhere else. Our team is passionate about getting to know every patient, helping them achieve their absolute best smile. If you have missing teeth, we can restore your smile and confidence with dental implants. To schedule a consultation, visit our website or call (413) 786-4400.