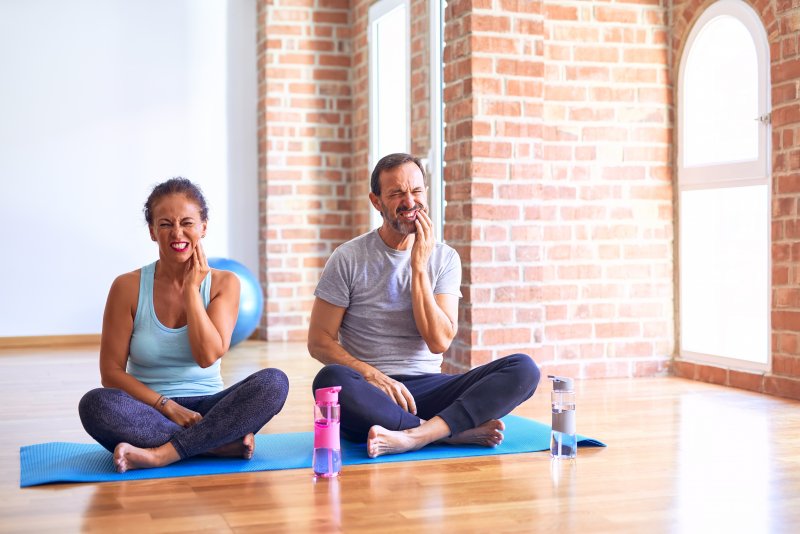 You're at the gym getting your reps in when you begin to feel tooth pain. You don't remember biting anything hard or hurting yourself, but the sensation seems to continue as your exercise. While it may not be a dental emergency, it could be a sign of developing dental issues that'll need to be addressed. Read on to learn several reasons your teeth might hurt during your workout.
Reason #1: Sensitivity to Cold
Some people have teeth that are sensitive to hot and cold temperatures. Not only will they react to cooler liquids, but they can also be affected by cold air! Breathing is an important aspect of any exercise, and if you tend to breathe through your mouth, it can cause your teeth to become uncomfortable from the cool temperature. Try breathing through your nose instead to keep your teeth insulated!
Reason #2: Bruxism
This is when a person unconsciously grinds their teeth while they sleep or when they're stressed. By placing excessive pressure on your smile, it can cause discomfort and sensitivity. Some exercises like running can also send aftershocks through your body, which forces your teeth to feel the force on each other. To reduce any shock or pressure, you can try relaxing your jaw and muscles to keep your teeth apart. You might also consider wearing mouthguards for increased comfortability!
Reason #3: Sinus Issues
A toothache can also be caused by things other than your teeth, such as your sinuses. They're located behind your cheeks, jaw, and eyebrows, and can trigger discomfort if it becomes infected or inflamed. If your teeth begin to hurt during your workout, then you might consider checking if your sinuses need treatment.
Reason #4: Gum Disease
Teeth sensitivity can also be a symptom of a deeper dental issue, like gum disease. If your gum line is inflamed and has an increased amount of blood flow, then this can cause your smile to be irritated and uncomfortable. Should this condition persist, a visit to the dental office can help avoid further health problems from arising.
Exercising can be a fun and healthy activity, but if you're experiencing tooth pain, you may want to address the issue before continuing. Feel free to consult your dentist for best practices on keeping your teeth safe and healthy!
About the Author
Dr. Michitti received his dental doctorate from The Ohio State University College of Dentistry. He's completed many hours of continuing education to stay up-to-date on the latest advancements in dentistry. Using top of the line technology, he provides multiple dental treatments including checkups, cleanings, and periodontal therapy to help you maintain a great smile. If you're feeling tooth discomfort during your workouts, feel free to visit his website or call 413-786-4400.