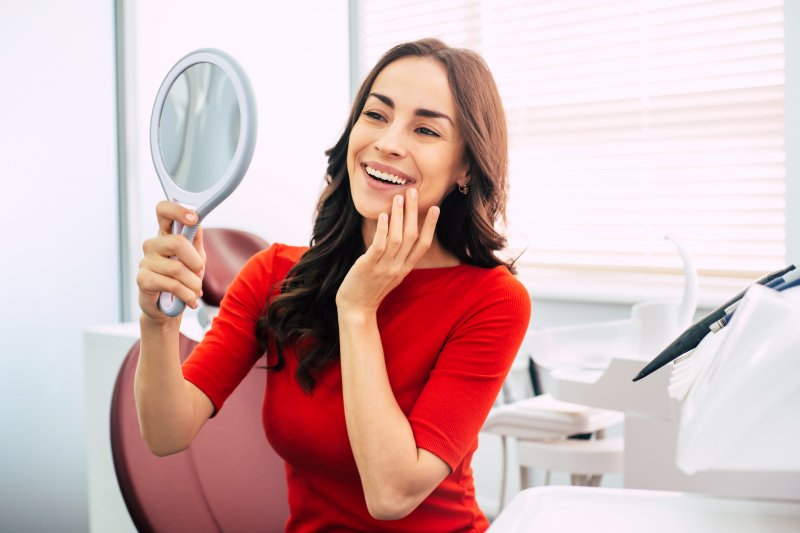 It isn't easy to carry yourself with poise when you're missing a few teeth. After all, large gaps in your smile, difficulty chewing, and other complications of tooth loss can make feeling confident near impossible. You may live a good life, but part of you may still worry about your smile and what it conveys to others.
However, you can restore your self-esteem simply by getting some dental implants. To learn more, read this summary of dental implants and their positive effects on confidence!
What are Dental Implants?
Dental implants are a highly recommended form of tooth replacement that use the latest developments in dentistry.
An implant is composed of a titanium post with lifelike restorations. After a dentist has properly numbed the area, it is placed in the location of a former tooth and attached directly to the jawbone. In a process known as osseointegration, each post is held in place by bone that grows and surrounds it over time. Their metal portions beneath the gumline help prevent the loss of surrounding tissue. To replace the visible portion of your tooth or teeth, a dental crown, dental bridge, or implant denture will be used.
Dental Implants Make for a Younger, Fuller Smile
Dental implants improve your smile by filling in the gaps left by tooth loss.
This improvement includes its immediate appearance. By filling the empty spaces in your mouth, dental implants preserve your jaw structure to create a more youthful-looking face. Furthermore, because implants look like the real thing, they won't come across as artificial to your peers. Rather than staring at empty gaps, the people around you will see a beautiful smile that inspires admiration.
Implants will also ensure that your new smile stays vibrant. Without them, you risk letting gaps tilt the surrounding teeth, resulting in further tooth loss and even facial collapse. In addition, the spaces in your smile are natural breeding grounds for bacteria colonies that cause tooth decay and gum disease.
Dental Implants Act Like Real Teeth
More than just cosmetic, dental implants offer all the functions of real teeth.
For example, they won't interfere with your daily activities. You'll be able to have and enjoy your favorite foods without fear of, say, the implant slipping from your mouth. Likewise, because they're attached to the jawbone, they won't move around whenever you're talking. That means you won't have to worry about slurred speech or mumbling because of the prosthetic.
Don't let missing teeth keep you from living a determined, confident life. Instead, schedule an appointment with your dentist to look into the dental implant treatment!
About the Author
Dr. Frank Michitti is a dentist practicing in Agawam, MA, having graduated from the Ohio State University College of Dentistry. He's learned to treat both teeth and people from courses at the Dawson Academy in Florida, and prides himself on having reached Mastership in the Academy of General Dentistry. Dr. Michitti also excels in his ability to replace teeth, offering fair prices for dental implants placed in-office. He currently practices at Lifetime Dental and can be reached at his website or by phone at (413)-786-4400.