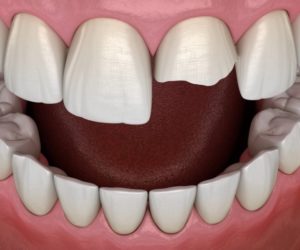 Your teeth are protected by the hardest substance in your body. Enamel is the outer layer of your tooth that protects the underlying dentin and pulp. Although it is strong, it isn't indestructible. A chipped tooth can happen without any warning, but don't panic. Here are 5 steps you can take at home until you can see your emergency dentist. 
1. Rinse your mouth and assess the situation.
Rinse your mouth with cool water to remove any debris, so you don't accidentally swallow any pieces of your tooth. You'll be able to get a good look at the damage to determine your next step, like seeing an emergency dentist or waiting until the next available opening.
2. Control any bleeding and call your dentist.
Not all chipped teeth bleed. However, if there's any bleeding, bite on a gauze pad until it subsides. You'll also want to call your dentist to explain the situation. If the chip is minor and you aren't in pain, your dentist may schedule you for their next availability. If the break is significant, you're in pain, or can't control the bleeding, they will get you into the office right away. You don't want to wait too long to see a dentist, even for small chips. Your enamel can't regenerate, so your tooth will be at risk of additional damage until it has been repaired.
3. Manage any pain or swelling.
Chipped teeth don't always cause discomfort, but it's not uncommon to have a little tenderness. You can manage your pain using an OTC pain reliever. Applying a cold compress to the outside of your mouth can numb the area temporarily and reduce inflammation. Gargling with salt water can also decrease pain and swelling while keeping your tooth clean.
4. Watch what you eat.
It's best to eat soft foods until your tooth has been repaired. Skip any hot, cold, or acidic foods and drinks to prevent tooth sensitivity. If possible, chew on the opposite side of your mouth to avoid additional complications.
5. Keep your mouth clean.
With your tooth's defense system weakened, you can be at risk of sensitivity, decay, or breaks without quick treatment. Step up your oral hygiene routine to keep your mouth clean. Brush, floss, and use a mouthrinse to safeguard your smile.
Restore a Beautiful Smile
Your dentist will create a personalized plan to restore your smile. Minor damage can often be treated with cosmetic bonding or a veneer. More serious chips can require a complex treatment, like a crown. Don't worry, your dentist will repair your tooth using a natural-looking solution.
About Dr. Michitti
Dr. Michitti earned his dental degree from the Ohio State University College of Dentistry and is recognized as a "Top 1% Dentist" for achieving Mastership status in the Academy of General Dentistry. He regularly continues his training to provide state-of-the-art services. If you need an emergency dentist, contact our office today to schedule an appointment.