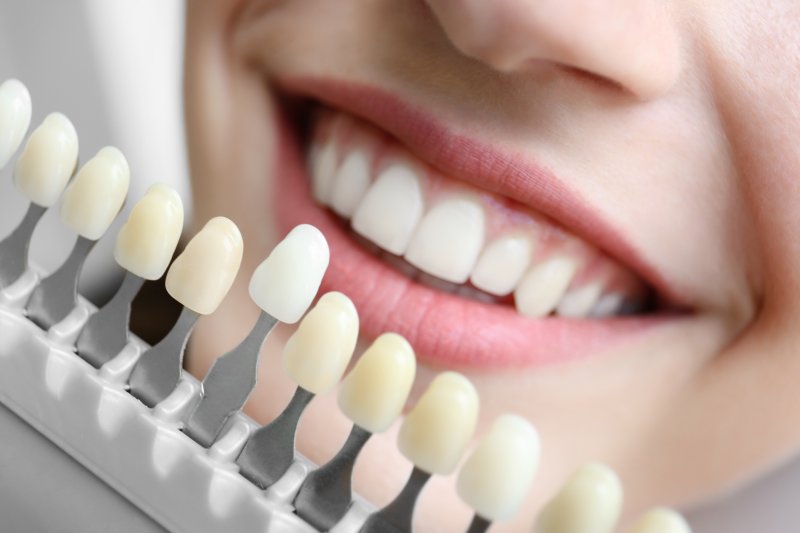 Even if you've decided to get whiter teeth from your dentist, you might not know which to choose. After all, many cosmetic dental treatments can give you a beaming smile. For instance, maybe you're trying to decide between teeth whitening and dental veneers. Both procedures could transform your pearly whites, but they also have varying strengths and weaknesses. Luckily, your Agawam cosmetic dentist can help out. Read on to learn whether to get teeth whitening or veneers based on their positives and negatives.
Teeth Whitening
Teeth whitening is a dental treatment that directly bleaches tooth enamel white. As offered by dentists, it's usually done in-office or through at-home bleaching kits.
Strengths
Many patients consider teeth whitening to be cost-effective. The process can remove tooth stains in as little as a one-hour appointment and make teeth 6-8 shades. Even better, these results can last up to three years with proper dental care. Add in the fact that the cost is relatively low, and professional whitening becomes a good investment.
Weaknesses
The downside to whitening is that it isn't as thorough as alternatives. In some cases, grey or brown discoloring is too tough to eliminate. At other times, its results don't last very long and force patients to return for repeated touch-ups.
Dental Veneers
In contrast to whitening, dental veneers cover stains instead of removing them. As a result, they can hide all sorts of smile flaws beneath tooth-colored ceramic.
Strengths
The main draw of veneers is that they're customized and long-lasting. As such, they can deliver a better effect that (with maintenance) can last up to fifteen years. Plus, they work not only to hide stains but also cracks, fractures, and other tooth damage.
Weaknesses
Meanwhile, veneers' biggest drawback is their price. Since they can fix issues besides staining, they tend to cost more than standard teeth whitening. While the latter's price is usually hundreds of dollars, the former can charge into the thousands.
Keep in mind, too, that veneer placement removes tiny amounts of tooth enamel. That said, the treatment can sometimes make teeth sensitive.
Which Is Right for You?
Ultimately, the best procedure will depend on what you want.
If you're looking for enduring and permanent results, veneers could be what you need. Just know that they'll cost more in terms of money and enamel.
On the other hand, whitening would be ideal if you want something quick and cheap. Not only is it low-cost, but it's also low-risk due to being safe and effective.
Both whitening and veneers can make for shinier teeth. Talk to your dental practice for more details on your ideal choice.
About the Practice
Lifetime Dental is based in Agawam, MA, and is led by Dr. Frank Michitti. Per its name, the practice aims to give patients beautiful and long-lasting smiles. To that end, its staff can perform preventive, cosmetic, and restorative dentistry, not to mention emergency dental treatments. Whether your teeth need cleaning, whitening, or even replacement, the Lifetime team will go above and beyond. For more information or to book an appointment, you can reach them at their website or by phone at (413)-786-4400.