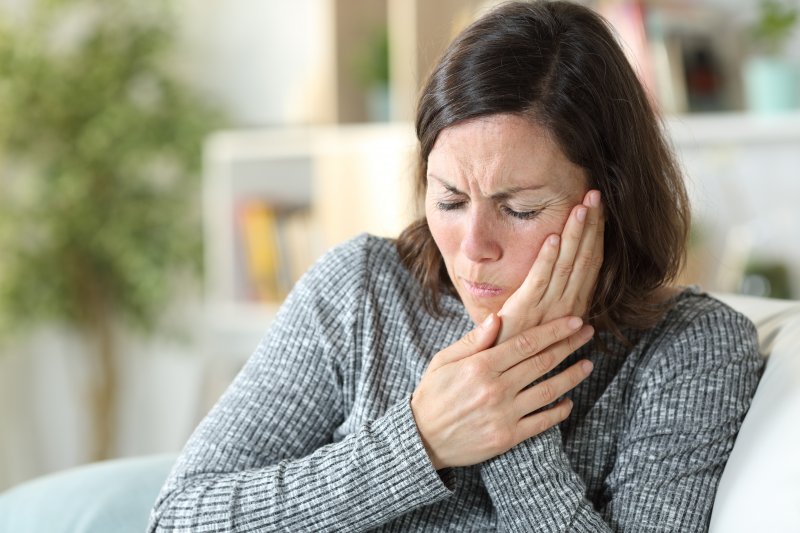 TMJ disorder is a bad enough problem on its own. After all, the condition causes chronic jaw pain! You obviously wouldn't want to make the issue worse. That said, you're better off avoiding anything that could aggravate your jaw. However, what if you don't know what such things are? In that case, you can trust the advice of your local Agawam dentist. Here's a summary of four habits to stop doing while you're dealing with TMJ disorder.
Hard Foods
When you have TMJ-related pain, it's best to avoid hard foods. These items would place excessive stress on your jaw, thus preventing the joint from healing properly.
Some examples of hard foods to ignore might include nuts, ice, bagels, chips, apples, and more.
Chewing on Only One Side
Consciously or not, many people have a habit of only chewing on the side of their mouth. The action, though, can stress out your TMJ and cause it to experience pain and dysfunction.
Given these facts, try to be aware of your chewing — at least until you get treatment. Namely, make sure you consume food on both sides of your mouth.
Clenching Your Teeth
Teeth-clenching or bruxism can place a lot of pressure on your jaw. In doing so, it could make the pain from a TMJ disorder even more intense. As such, you'd be better off learning how to unclench.
Fortunately, dentists have some suggestions for reducing bruxism. One, for example, is to wear a mouthguard while you sleep. Another is to practice relaxation techniques, as teeth-clenching is often the result of emotional stress.
Slouching
You might be surprised to learn that jaw function is tied to posture. As a result, slouching can change how your jaw muscles work, how your jawbone opens and closes, etc.
If possible, then, try to sit or stand straight as much as possible. If you want help doing so, consider seeing a physical therapist. They can use various methods — including a slouch-overcorrect exercise — to help change your posture. From there, you could keep your jaw operating correctly.
If you stay away from habits like those above, your TMJ disorder shouldn't get worse. You'll then be free to focus on getting the dental treatment you need.
About the Practice
Lifetime Dental is based in Agawam, MA. As led by Dr. Frank Michitti, our practice ensures patients get what they need for great oral health. To that end, we offer preventive, cosmetic, and restorative dentistry, not to mention emergency procedures. Our office also prides itself on providing TMJ therapy for those with jaw-related problems. For more information or to book an appointment, reach them at their website or by phone at (413)-786-4400.