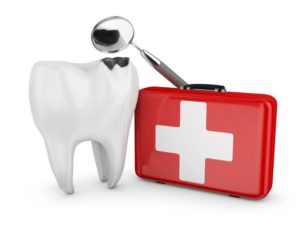 A knocked-out tooth. Unbearable tooth pain. A dislodged crown. Nobody wants a dental emergency, but unfortunately, it can happen at the most unexpected times. Having a plan in place with an immediate number to call can help make a difficult situation much more manageable! Read on for helpful tips on choosing an emergency dentist before an unusual circumstance with your pearly whites occurs.
First Things First: What Is a Dental Emergency?
Your mouth is one of the most sensitive areas of your body, so even minor issues can sometimes feel like an emergency. However, there are some common dental emergencies that will need to be seen by a professional right away. For example, a cracked or knocked-out tooth will require immediate attention, while a sudden toothache can be taken care of the following morning.
Other common oral emergencies include facial swelling, soft tissue injuries (like a bitten tongue), and a dislodged dental crown or filling. Be aware that potentially life-threatening symptoms, like difficulty breathing or a fractured jaw, will require you to go to your local ER right away.
Tips to Consider When Choosing an Emergency Dentist
Hopefully, your smile will remain safe for years to come, but it is best to have a plan in place in case an event catches you off guard. It's best to choose a dentist who offers emergency services before anything unexpected happens. These helpful tips will help you to choose the best one for you:
#1: Look Local
If a sudden, severe dental injury occurs, the top priority is finding fast, effective relief from the pain and swelling. Not only do you want to avoid taking a long, painful drive to the dental office, but you don't want to delay the immediate treatment of your smile. This would occur if your dentist of choice is located all the way across town or in another city. Therefore, make sure to keep your search local. You will ensure you get fast and efficient care for your dental emergency.
#2: Find a Practice Who Accepts Your Dental Insurance
The last thing you want to deal with after a stressful situation regarding your oral health is a hefty bill. In order to get the proper care you need without breaking the bank, be sure to ask the practice ahead of time if they accept your dental insurance. There are excellent dental offices that accept plans from many insurance providers. For convenience, you can also give your insurance provider a call and they can provide you with a list of dentists who accept your plan or are willing to take it on an emergency basis.
#3: Research Which Services They Provide
Finding an emergency dentist that offers same-day appointments is a lifesaver when you have a severe toothache or knocked-out tooth. However, if they also provide a broad range of other services, it can not only save your smile but time and money! For example, restorative treatments can fix your teeth without having to come back for multiple appointments! Additionally, you can get the recovery process started and be on your way to a whole, healthy smile once again.
Dental emergencies can be frightening, but by preplanning and knowing where to turn immediately for help, you'll be able to manage the situation much more easily!
About the Author
Dr. Frank Michitti and his team at Lifetime Dental of Agawam want to help you immediately with any dental emergency. By offering a full range of dental services, he can fully assist you with any of your unexpected oral health needs. He is recognized as a "Top 1% Dentist" for achieving Mastership status in the Academy of General Dentistry and has a 5-star rating from over 200 Google reviews. For an emergency same-day appointment, contact him through his website or call (413) 786-4400.