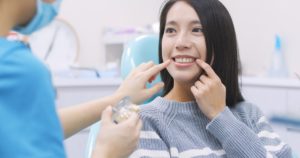 If you're not happy with the way your teeth look, cosmetic dentistry can turn the smile of your dreams into reality. Most people with healthy teeth and gums are candidates for cosmetic dentistry. Although you might be concerned about aesthetic issues, your dentist's first priority is your oral health. Here's why a healthy smile is a requirement for elective services.
Oral Health is Important for Cosmetic Dentistry
Cosmetic Dentistry will certainly improve the appearance of your teeth, but it will not resolve untreated dental problems, like tooth decay or gum disease.
Elective services may just cover up the issues, or worsen them. Eventually, it can lead to major complications down the road that can cause your investment to fail.
Your dentist will look for anything concerning during your consultation. It's not uncommon to need a little prep work before moving forward with cosmetic services, like a teeth cleaning, fillings, or gum disease therapy.
Options for an Attractive Smile
Once your teeth and gums are healthy, your dentist will create a personalized plan to address your aesthetic concerns. Although every mouth and situation differs, you may be a candidate for:
Metal-Free Dental Restorations
Tooth-colored materials are used to create fillings, crowns, and other restorations that look natural. They'll blend in with your real teeth, so only a trained dental professional will know they are there.
Porcelain Veneers
Veneers are bonded to the front surfaces of teeth visible when smiling to correct many issues using one minimally invasive treatment, like stains, chips, and gaps. Your results can last for a decade or longer with the right aftercare, like brushing and flossing.
Teeth Whitening
An in-office or at-home whitening kit can get your teeth up to 8 shades whiter when used on surface or age-related stains. Your smile can stay bright for several months or years with the right care.
Gum Recontouring
A soft tissue laser sculpts the gum line to make the teeth look more proportionate. It's a great option for patients with a gummy smile that doesn't require a scalpel or sutures.
Dental Bonding
A composite resin is shaded to match the color of enamel to blend in with your tooth when used to fix minor imperfections, like decay, chips, or exposed tooth roots. It offers a lot of bang for your buck because it's affordable and provides quick results.
Although you may not expect to need preliminary treatments, healthy teeth and gums are the foundation for a beautiful smile. It's time well-spent to ensure your investment lasts.
About Dr. Michitti
Dr. Michitti earned his dental degree from The Ohio State University College of Dentistry and has regularly continued his education to provide advanced services, like dental implants, cosmetic dentistry, and general dentistry. He is a proud member of many professional organizations, including the American Dental Association and the Academy of General Dentistry. If you're ready to enhance your smile, request an appointment through our website or call (413) 831-5531.