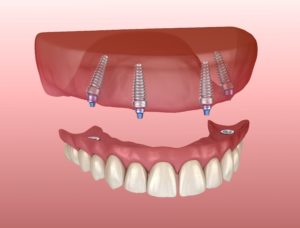 Losing your teeth has a significant influence on your self-esteem and quality of life. Dentures have been used for generations to treat tooth loss because they are effective and convenient, but they have one disadvantage. Unfortunately, dentures cannot stop bone loss caused by missing teeth. Only dental implants can preserve your jaw's density to maintain your facial shape and preserve your oral health. Here's what you need to know about the differences between dentures and dental implants to choose the best method to rebuild your smile.
Missing Teeth Cause Bone Loss
Losing even one tooth can have serious complications because you can lose up to 25% of your jaw's density within the first year. Your jaw will continue to shrink as time passes because it's not being stimulated by the tooth roots.
As you lose more bone, your facial shape will change. You can look years older than your true age from premature wrinkles, sagging skin, or a sunken appearance caused by insufficient bone mass.
Dentures Can't Stop Bone Loss
Dentures can restore your ability to smile confidently and eat a variety of foods, but they won't stop bone loss. Dentures only replace the portions of missing teeth above the gum line. Therefore, your jaw will continue to deteriorate, which can cause your denture to fit poorly over time. This is why regular adjustments to your denture are important to maintaining a snug fit.
Dental Implants Preserve Your Jawbone
Dental implants are the only solution to stop bone loss caused by missing teeth. A dental implant is unique because it recreates both the root and the crown. As a result, it stimulates new bone growth to keep your jaw strong and healthy. You'll avoid many complications caused by tooth loss, lowering your long-term oral health expenses while improving your quality of life.
You don't have to worry about replacing each tooth individually. Instead, your dentist will surgically place 4 to 10 dental implants into your jaw to serve as new roots. Abutments are placed on each post to connect your denture.
Your denture will have the support of your jawbone to benefit from unmatched stability. You'll never have to worry about slipping or irritation again. They'll restore 70% of your natural biting force to enjoy all your favorite foods to maintain a nutritious diet.
Unlike a traditional denture, you won't have to worry about adjustments or replacements. Dental implants are proven to last for 30 years or longer with the right care, like brushing and flossing.
They are also the most cost-effective solution to treat missing teeth because you'll never have to budget for replacements, and you'll avoid needing costly procedures to repair issues caused by jaw deterioration.
By replacing your lost teeth and preserving your jawbone, you'll turn back the clock to take 10 years off your appearance. Your facial tissues will have the support they need to look and feel your best.
If you're ready to invest in the next best thing to your real teeth, implant dentures are the smart choice for your smile. You can't put a price on the benefits you'll gain by supporting your denture with dental implants.
About Dr. Michitti
Dr. Michitti earned his dental degree at The Ohio State University College of Dentistry and has regularly pursued continuing education in advanced services, like dental implants. He is a proud member of many professional organizations, including the American Dental Association. Request an appointment through our website or call (413) 831-5531.