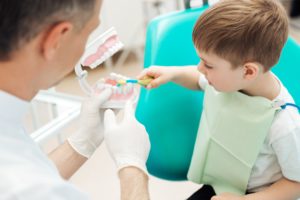 Nothing is more precious than your child's beautiful smile. Their oral health is important for their overall wellness and development. Good dental habits from a young age are important. Researchers have found that children who benefit from early dental care are more likely to commit to their oral health as adults. However, your child may not have the same views on brushing as you. Here are 4 ways to keep oral hygiene fun for children, so you can win the brushing battle.
1. Set a Good Example
Children learn from what they see. Set the example of good oral hygiene habits at home by brushing and flossing with your child. They will see that you take your oral health seriously. They'll improve their brushing and flossing techniques by watching you. It's also a good way to spend a few minutes alone with your child for bonding moments.
2. Switch to an Electric Toothbrush
The American Dental Association recommends brushing for 2 minutes, which can seem like an eternity for young children. If they rush through brushing, an electric toothbrush offers more brush strokes per minute for a better clean.
Many also come with certain features, like pressure sensors or timers, which are perfect for young brushers. You can find a variety of electric toothbrushes featuring cool colors, lights, music, and characters, so your child will be excited to brush their teeth.
3. Toss Traditional Dental Floss
Traditional floss can be difficult for small fingers to use. You can skip the tears and frustration by switching to a waterflosser. A gentle stream of water is used to clean the most difficult-to-reach areas in your little one's mouth.
A waterflosser is a simple and pain-free solution to keep their gums healthy. Flossing won't feel like so much of a chore to ensure they aren't neglecting their gum health.
4. Choose the Right Dentist
Besides caring for their smile at home, your child also needs to see their dentist every 6 months for a cleaning and checkup. Although baby teeth are only in place for a few years, they are invaluable to your child's oral health and development.
They should see their dentist before their first birthday to have their oral health monitored. It also allows your child to develop a trusted relationship with their dental team for stress-free appointments.
It's best to choose a family-friendly office that caters to young smiles. They will be excited to see their dentist because it will feel like they're visiting friends.
About Dr. Michitti
Dr. Michitti earned his dental degree from The Ohio University College of Dentistry and is recognized as a "Top 1% Dentist" by the Academy of General Dentistry. He regularly continues his education to provide up-to-date dental care for patients of all ages. Dr. Michitti is a proud member of many professional organizations, including the American Dental Association. Request an appointment through our website or call (413) 831-5531.