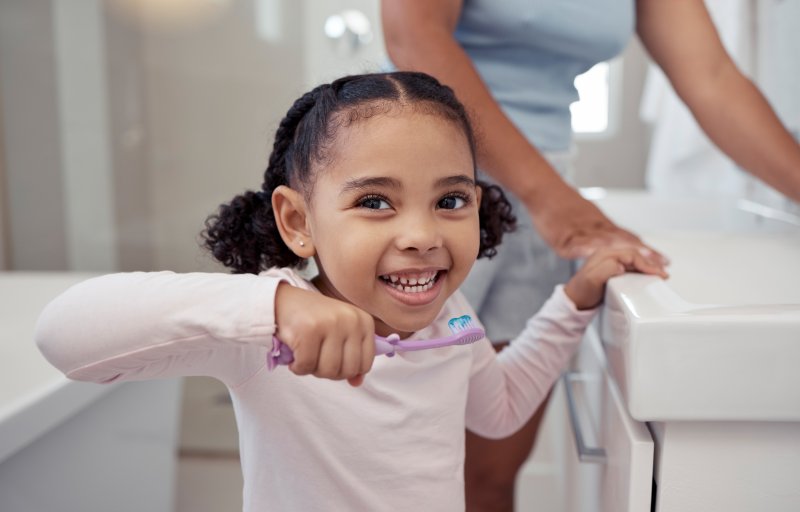 As an adult, you probably don't remember what it was like to have baby teeth. And, research about what causes tooth decay and how to take care of your smile wasn't as extensive as it is now. That being said, now that you're a parent, you only want the best for your child and their oral health. Unfortunately, there's a lot of misinformation surrounding children's dentistry. Here's the truth behind 3 common myths about your child's growing smile so you can set it up for success!
Myth #1: You don't need to worry about your child's baby teeth.
Because baby teeth are going to fall out anyway, some people assume they don't require as much attention. Whether they get cavities or go unbrushed, they'll soon be replaced by adult teeth, so taking care of them isn't important, right?
False! Baby teeth actually play a vital part in your child's development. They act as placeholders for permanent teeth, help your child get good nutrition by breaking down their food, allow them to speak properly, and maintain their facial structure.
Your sweet child's smile may suffer long-term consequences if it's damaged by premature tooth decay, thereby impacting how their adult teeth grow in. Hence, cavities in baby teeth are not purely a cosmetic issue. Since cavities harbor bacteria, leaving them untreated thinking their baby teeth will eventually fall out puts your child's overall health in danger if the bacteria spread to the bloodstream.
Make sure to start brushing once their first tooth erupts, and 6 months after that (or no later than your child's first birthday), start taking them to see a children's dentist.
Myth #2: Fruit juice is way better for their smile than soda.
You may know that soda is bad for your child's smile, but what about fruit juice? Unfortunately, many fruit juices actually have just as much sugar content as soda! Although it has more nutrients than its fizzy counterpart, allowing your child to sip on this drink all day can actually dramatically increase their risk of cavities and tooth decay.
If they love juice and can't live without it, make sure they are at least drinking in moderation, through a straw or sippy cup, and all in one sitting. You can help them brush their teeth and rinse their mouth afterward.
Myth #3: Kids shouldn't chew gum.
Surprisingly, gum can actually be good for kids' teeth — provided it's sugar-free. Without sugar, bacteria won't produce enough acid to damage their smile. On the contrary, the act of chewing gum actually cleans their mouths by increasing saliva production and keeping cavities away.
Protecting your child's pearly whites doesn't have to be stressful. Knowing the truth behind some common misconceptions about your child's oral health can help you smile worry-free!
About the Author
At Lifetime Dental of Agawam, Dr. Michitti sees patients of all ages, including children. As a family dentist, he takes a gentle approach so that his younger patients have comfortable experiences at their appointments. Dr. Michitti provides preventive dental services to keep their little smiles free of decay and look out for concerning developments so they can be addressed as soon as possible. If you're looking for quality children's dentistry, contact Dr. Michitti at his website or by phone at (413) 786-4400.